Weary winter tunes
With cold nipping at our bones under an often overcast sky, winter days can be characterized by their drowsy atmosphere and ability to create a potent feeling of gloom. But in certain cases, this feeling is actually enjoyable — we want to remain wallowing in an unreasonably comfortable sadness for no identifiable reason. So next time you're standing outside, bundled up in winter gear, wincing at the cold wind piercing your eyes, try a few of these songs to put you in the right mood:
1. "SLOW DANCING IN THE DARK" by Joji
In this staple of every sad playlist, Joji manages to scream without ever actually screaming. Right before the chorus, the beat drops, causing the bass to overpower the singer's voice and create a kind of instrumental yell. The sound penetrates your bones and shakes you into the kind of woe that you can feel in your throat. Overall, it's a masterpiece that sets the perfect tone for a voluntary gloom. 
2. "Moonlight" by Ali Gatie
Gatie is known for the love-sick, please-take-me-back nature of his music, much of which admittedly sounds very similar. "Moonlight" is the kind of song that makes you feel like you're out on a night drive, pining over the ex you regret losing while staring into the starry sky. Gentle guitar tunes and a laid-back beat create the kind of song you can fall asleep crying to — just don't do that while you're actually driving. 
3. "Cutting Ties" by 6lack
This song is arguably the epitome of 6lack's signature mellow beats and nonchalant heartbreak stories. Although usually serving as the victim himself, 6lack details how he is now the one walking away from his relationship and he doesn't quite seem to care. The way he describes it, he's used to cutting people out of his life and thinks it's the best option for both him and his girlfriend. Listening to this song, you'll feel that casual, unnaturally calming feeling of letting go without actually needing to end any friendships or relationships. 
4. "come out and play" by Billie Eilish
Soft harmonies and a voice that rarely rises above a whisper — if it weren't for such emotionally charged lyrics, every one of Billie's songs would lull me to sleep. In all honesty, "come out and play" isn't a sad song at all, but I've still cried to it more times than I'd like to admit. It's the premise behind the song of sharing your talents with the world, which can be one of the most nerve-wracking moments of complete and utter vulnerability, that makes it so touching. Sure, you'll shed a few tears when you listen to it, but they'll be happy tears. 
5. "Man on a Wire" by The Script
I always imagined rock music to be immune to heartache and uncertainty, but it seems the Script went a little soft for this song. The singer struggles to get over his ex, a woman who left him for another man. He describes how it feels as though he's walking on a tightrope, and any tiny disturbance could cause him to fall off and tumble back into heartbreak. Even if you've never felt this way, it's the kind of song you can scream from the rooftops; although, I wouldn't recommend trying to walk a tightrope between any. 
These are just a few of my top picks for the voluntary gloominess that accompanies winter weather. For more woeful sounds, check out the full playlist below: 
Leave a Comment
About the Contributor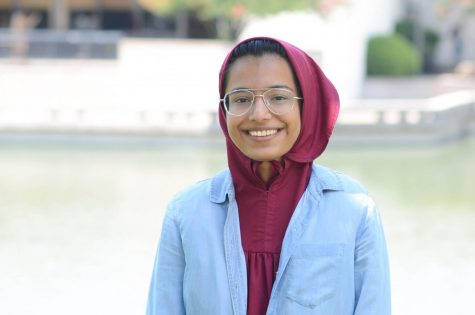 Saifiyah Zaki, Co-Editor-in-Chief
Saifiyah Zaki is a senior serving as co-editor-in-chief this year. In her third year on staff, she hopes to continue telling the stories of students that...