Wallows EP "Remote": Unabashedly experimental, undeniably good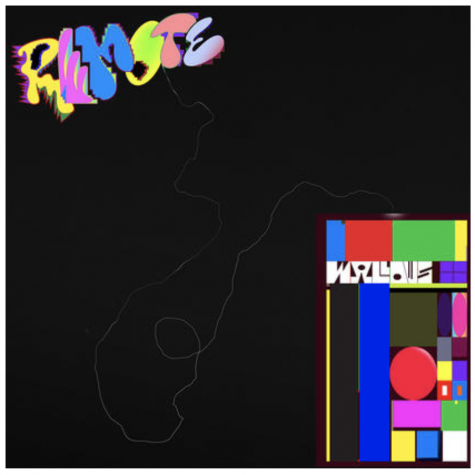 Quarantine has proven to be a time of self-reflection and exploration for everyone, but while some people chose to bake bread or learn Tiktok dances, LA based indie rock band Wallows made the best of a bad situation by recording their new EP "Remote."  A little over a year after releasing their debut album, "Nothing Happens," which set their rapidly growing popularity with catchy lyrics, soft guitar solos and a viral Clairo collaboration, they've chosen to stray away from the bedroom pop sound to focus on a synth-esque vibe that summarizes the bulk of the new album.
"Virtual Aerobics," which had previously been released as a single, isn't anything particularly special, but it's definitely catchy. In between lines about grape vines or side kicks, lyrics like "Being here for the first time with you/ It lets me see it totally new" and "Yeah, you made me blush like that (like that)/ Only been here one night, leavin' doesn't feel right/ We could live a life like that (like that)," make it clear that the song is more of a shy ballad to a girl disguised as a techno aerobics video. 
As for "Dig What You Dug," despite the repetitive lyrics, band member Braeden Lemasters has a chance to show off his impressive vocals beside head-banging guitar solos and the best backup instrumentals the album has to offer. The outro is reminiscent of the opening instrumentals from "Fluorescent Adolescent" by the Arctic Monkeys, yet flawlessly transitions to the next track. 
Unfortunately, "Nobody Gets Me (Like You)" falls short of originality compared to the others. It's hard to notice when "Dig What You Dug" ends and this third track begins, making it slightly lackluster. It's still a decent song with fun lyrics, just not as unique as I would have liked. 
The shortcomings of the previous track are quickly forgotten though as soon as "Coastlines" starts. This song is the tipping point in the EP cementing itself as another amazing hit for the band rather than just a fun, but ultimately mediocre, pandemic experiment. The lyrics are almost mournful and blended with the near perfect instrumentals, emotional vocals from lead singer Dylan Minnette, and the slightly slower vibe that cuts through the fast paced blur, it's easily my favorite song of the six.
Lyrically, the star of the album is probably "Talk Like That," which has my favorite chorus on "Remote." There's something hopelessly romantic in the verse "Feels more like your death, lost my breath, can you give me more?/ Do it all again, by the end, tell me I'll be yours" that brings me back to listen to it over and over. It's a short song and the outro definitely feels abrupt but it's another win. 
The final song on the six-track EP, "Wish Me Luck," feels almost like an odd ending to something that has been so experimental. It has more familiarity to Wallows' previous works than the jumpy techno sounds of "Remote" but despite that, it's still a good song. The lyrics follow the melancholy sound of "Coastlines" without being a cheap copy and the slower tempo makes it a satisfying ending.
What better time than a global pandemic to experiment with something new, and Wallows has proven they do well with a challenge. The six-song EP is fast-paced, fun and extremely energetic, a glaring contrast to their previous albums which have more than enough slow ballads to interrupt their other head bangers. My main grievance with the new EP is how some of the songs blend together. Maybe the flawless transitions are at fault, or maybe it's the catchy repetition, but even with these possible shortcomings, there's no denying it's good. Wallows continues to produce hit after hit, and at this point, there's no telling what they'll do next.