Kim Petras: "TURN OFF THE LIGHT"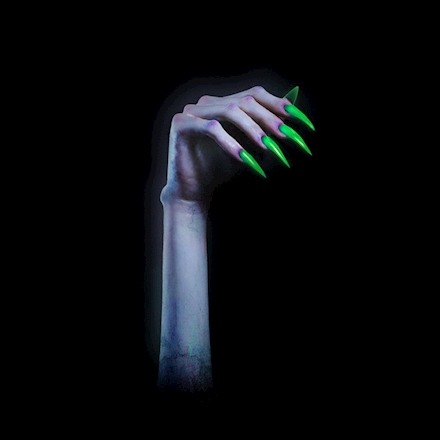 It is officially spooky season: Halloween enthusiasts decorate their lawns with skulls and cobwebs, buy overpriced candy, and change their Twitter usernames in anticipation of the sinister holiday. But whereas December is characterized by classic winter holiday songs, few songs—besides Michael Jackson's "Thriller" and Bobby Pickett's "Monster Mash"— iconically capture the spirit of the Halloween season. On Oct. 1, singer-songwriter Kim Petras filled this musical void by releasing the 17-track "TURN OFF THE LIGHT," the follow-up to her similarly named eight-track EP released exactly a year prior. Petras presents themes of death and fear in EDM and pop-style songs to create an eerie, emotionally-evoking effect that's perfect for the Halloween season.
Petras was born and raised in Germany, but attributes much of her songwriting inspiration to American pop music. "TURN OFF THE LIGHT" was produced by Dr. Luke—who is known for his contributions to pop hits such as "Wrecking Ball" by Miley Cyrus and "TiK ToK" by Kesha—Vaughn Oliver and Aaron Joseph. The production on the tracks is unique in its inclusion of elements such as bass-heavy beats, metallic vocal effects, heavy synths and samples of knives being sharpened and opening a door to a Halloween party. These all create a chilling mood, though each song is unique in its contribution to the cohesive album. "Massacre," for example, has a very ominous sound. Petras transforms the melody of "Carol of the Bells" in a way that threatens and overwhelms the listener.
Petras' voice lends very well to the spooky feel of the album. At times, she sings in a lighter, more alluring tone—such as in "Wrong Turn"—but her voice also becomes louder and fuller to create a feeling of urgency similar to that felt while running away from something petrifying. "Tell Me It's A Nightmare" is an especially intense track. Tried to save ya, warn ya, keep you alive/ Tried to stop ya, but you paid the price. She seems to plead with a lover to stay away from her. When they don't listen to her, all she can say is that she warned them they would get hurt. The most appealing aspect of her singing is that she manages to convey the physical feelings caused by her emotions. She makes the listener feel her heartbreak with an amplified intensity.
Her song titles and lyrics also contribute largely to the album's Halloween themes. Petras often portrays herself as the monster who is killing, hurting and frightening. She told OUT Magazine last year that the track "In The Next Life" was her acknowledging her partly evil nature, even embracing it as she let go of the fear of what she was doing in the spirit of evil. Though Halloween is generally seen as a shallow holiday during which those who celebrate are overly concerned with costumes and candy, Petras accomplishes a deeper exploration of the themes present during the holiday. She addresses the irrationality of fearing death and failure in the song "Everybody Dies." She also references werewolves, spirits and demons as metaphors to aid the broader concepts like finding one's true self or facing death.
In this album, Petras evokes emotional feelings and deep thought through the effective musical choices made by her and her producers. "TURN OFF THE LIGHT" doesn't just appeal to Halloween-lovers, but rather anyone interested in the exploration of evil and danger. The album is perfect to play at a Halloween party, but I recommend listening to it on repeat until the very end of the Halloween season (before the winter holidays take over).