Black, Gold Going Green
by Aysia Lane, Reporter
December 12, 2018|217 Views
The UN Intergovernmental Panel on Climate Change (IPCC) warns the world that the year 2030 will yield catastrophic impacts of global warming. If the Earth surpasses 1.5 degrees Celsius global warming, the planet is at risk for rising sea levels due to melting glaciers and ice caps, wildfires, food shortages, droughts and more.
Although there are some that believe humans have not played a part in climate change, NASA's findings suggest otherwise, concluding that there is more than a 95 percent probability that human activities over the past 50 years have contributed to the global rise in temperature.
Knowing the cause
According to The National Academy of Sciences, the United States derives 81 percent of its energy from natural gas, coal and oil. When these fossil fuels are burned they release greenhouse gases. These gases– carbon dioxide, methane, nitrous oxide and other fluorinated gases– are emitted during the burning of the energy sources. Once in the atmosphere, these gases trap heat and can create holes in the ozone layer. As common as these fossil fuels have become, powering everything from cars to power plants, their impact is costly.
Everyday acts contribute to global warming. The Catholic Relief services found that throwing away junk mail leads to 51 metric tons of greenhouse gases a year. In the same study, they found that each year drivers in the United States release 3.3 trillion pounds of carbon dioxide.
In a similar way, everyday acts also have the power to contribute to positive environmental changes such as recycling, reducing waste, and utilizing renewable resources.
In his personal life, Principal George King tries to be environmentally conscious.
"My family is really big on recycling," King said. "We try to reduce waste at our house, and we're pretty good about taking plastic bags to the grocery store."
The school's contribution
Although there is no formal, district-wide policy for recycling and reducing waste, the cafeteria staff have taken matters into their own hands.
"We recycle every day," Cafeteria Manager Marian Yousef said. "Cardboard, paper trays, anything we have left [at the end of the day] we try to divide them and put them in the recycle tray."
Recycling leftover waste has been a common practice of the cafeteria staff in past years. The staff also tries to minimize the amount of waste produced during the lunch periods by "batch cooking," a method that involves preparing large amounts foods, allowing for continuous usage over time and urging students to not waste their food.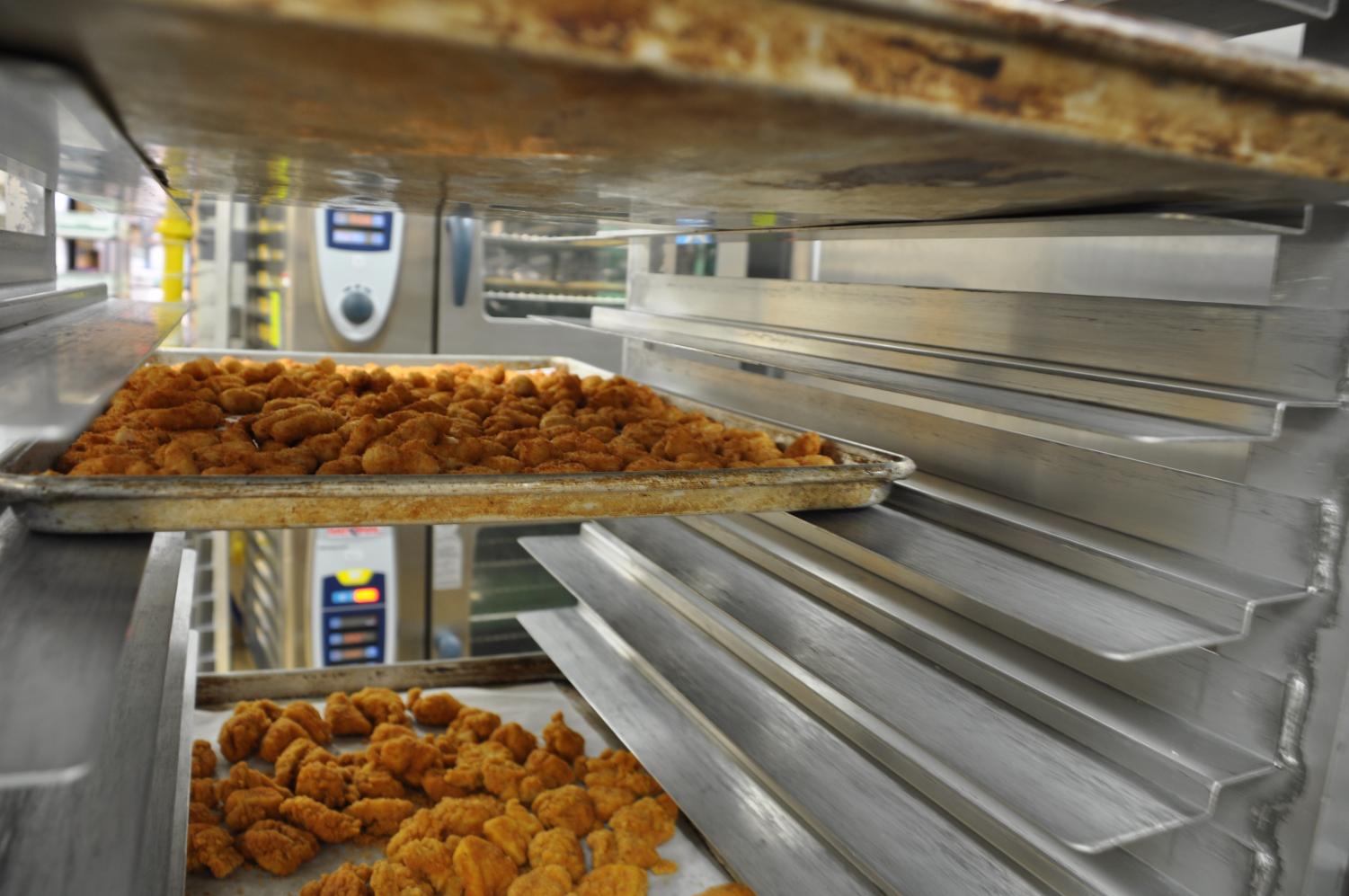 "I encourage the students to think 'If you're not going to eat it, you don't have to pick it up,'" Yousef said. "But the older kids tend to eat more."
Although styrofoam isn't the best for the environment due to its inability to be reused, these petroleum-based trays are more convenient for an open campus by minimizing the possibility of having standard lunch trays left behind. However, other PISD schools treat the styrofoam plates differently.
"Most of the time [in elementary and middle schools,] if the dish [washing] machine is out or schools are short staffed, [cafeteria staff] always have some on-hand just in case," Yousef said.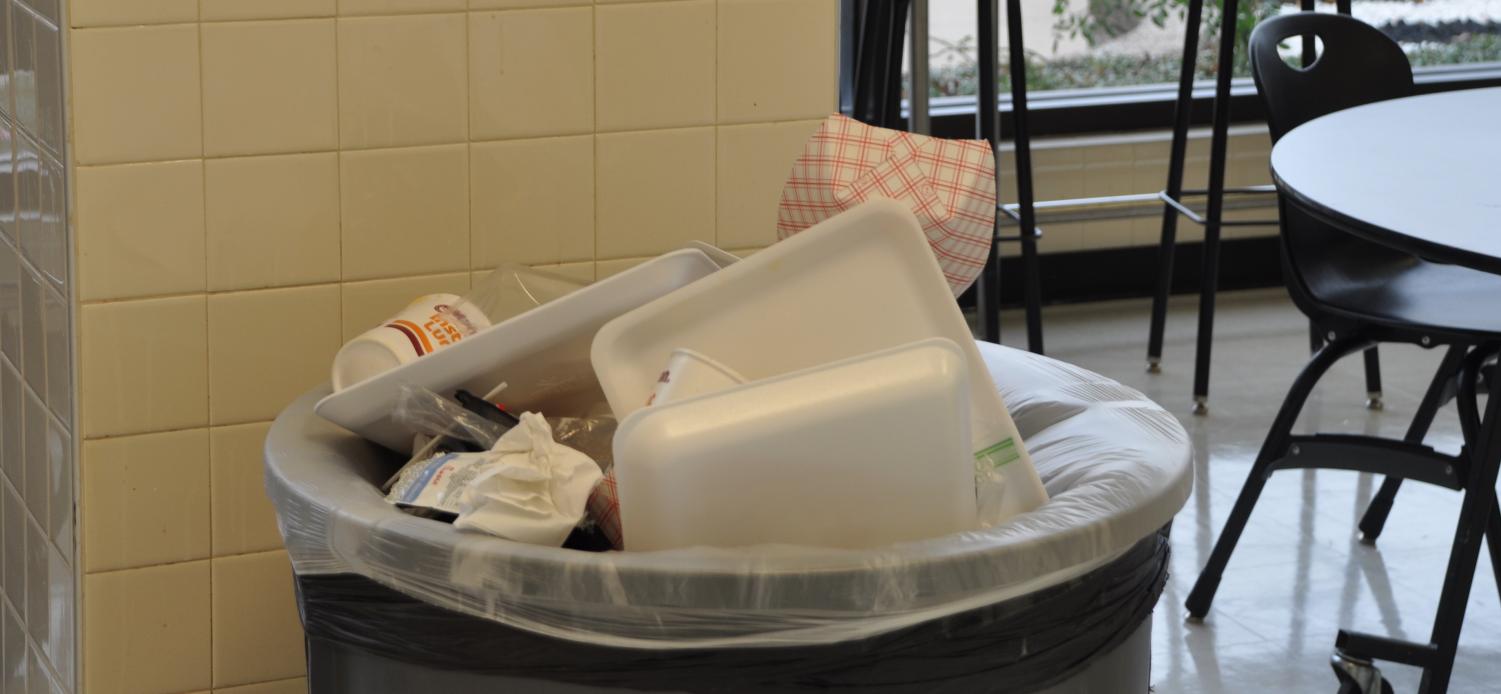 Associate Principal of Student Activities Robert Eppler says the cafeteria staff is not alone on the campus in their efforts to recycle and minimize waste. The school has a dumpster reserved for recycling cardboard and also has people staffed specifically for cleaning the outdoors and spot-cleaning the campus. According to Eppler, Plano is unique in its approach to being environmentally friendly.
"I've been to other towns that don't make it as easy for [citizens] to recycle," Eppler said. "[The city of Plano] make[s] it more user-friendly."
King explained that while Plano may be better than most at recycling, by being more proactive about educating its citizens, the school district lacked the city's support in their attempts to reduce waste and recycle. But in 2010, the city of Plano claimed to be unable to fund the support program put in place and the awards given to schools.
"In the past, when [PISD schools] had the support of the city of Plano, [school recycling efforts] worked beautifully," King said. "They gave us recycling materials, made sure that the pickup of the dumpsters is true recycling and true trash, and they had programs to reward campuses that do the best job of paper, plastic [and] aluminum collection."
Although there is a continuous political debate about the validity of scientific predictions in regard to global warming and possible solutions to environmental issues, King stands firm in his beliefs.
"I think it's unfortunate that [global warming] has become a political issue," King said. "[Being educated about environmental issues] is for the good of all and should not become a polarizing subject."
The future
The school is planning to take on more sustainable environmental projects through the funding of a non-profit started by former student Drew Sims, who plans on utilizing hydroponic farming systems.
"The cool thing about hydroponics is that we don't don't use soil when we grow," Sims said. "We use another type of medium such as rocks or synthetic fibers."
The plants grown on the hanging walls would be donated to the culinary department to use for cooking and some will be planted in different parts of the campus.
"The farm walls are limited to short-statured crops, likes lettuce, leafy greens, herbs, kale, stuff like that," Sims said.
The farming system will be able to grow 80 plants per wall and with seven walls already installed on campus, the fixture can produce over 560 plants. In the future, moving the walls inside a greenhouse-like structure could be a pesticide and herbicide-free option for the campus. Sims wanted the hydroponic farming system to be solar powered as it is a more sustainable option. However, PISD does not currently have any vendors able to offer solar power resources. Sims feels a personal connection to the project and believes it is important for the community.
"My grandparents were farmers," Sims said. "I'm trying to innovate my family traditions and tie them back to [East]. If I can make this small difference, I want to think local but act global."
Sims plans on involving students with the farming, including National Honors Society and any volunteers interested in the process.
"When kids get to grow something, bringing it from seed to finish and they get to eat what they grow, they really enjoy it." Sims said. "It's something to get them out and away from their phones."
The project has been in the works for a little over a year and is projected to be up and running by spring of this year.
"Over time I have appreciated that so many students see recycling and sustainability of the environment as important issues to them." King said, "That makes me feel good about young people and what they value, and what they see are things that we [as a population] need to advance in the future."
If you're interested in Drew Sims's project, contact him at [email protected]