Cafe HwaSan: Where Korean Cuisine Meets American Brunch
by Kayla Vu, Co-Editor in Chief
Sep 23, 2022
With students reuniting with their friends and the school year rolling in a wave of tests and assignments, a local cafe rests in the corner of the Park Pavilion Center, providing the perfect place for hangouts, study hotspots and especially great eats. Cafe HwaSan is a unique brunch location with a flare of Korean flavors and a myriad of items ranging from a cup of coffee to Korean-style burgers and tacos.
Although a small location, the brunch restaurant welcomes guests with a serene atmosphere of dim lights and minimalistic decor. The cafe is self-serve where guests can seat themselves at any open table, read the menu and order from the counter. From there, customers are given a wide selection of drinks and brunch options to choose from.
With their ceremonial grade matcha, Cafe HwaSan is the perfect place to soothe any cravings for matcha-flavored treats. A crowd-favorite is definitely their cloud matcha latte. The drink receives its name from the layer of sweet crème foam that tops off the smooth texture and semi-sweet matcha flavors of the beverage. Other matcha-flavored delights include their matcha affogato, strawberry matcha latte and dirty matcha vanilla latte.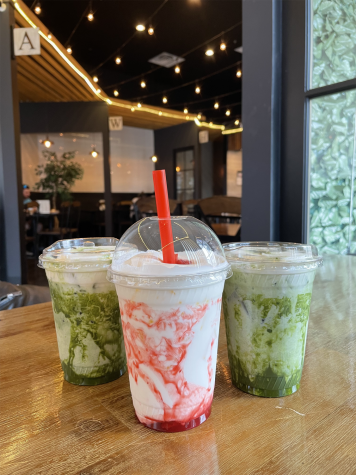 A perfect addition to their drinks would be their speciality 'croffles,' a pastry made from croissant batter that is pressed into a waffle iron. With a dozen different flavors to choose from, the croffle itself has a fluffy texture paired with its buttery and semi-sweet taste. A personal favorite is their matcha ice cream and tiramisu croffles.
The brunch restaurant also includes other dishes including several different types of french fry options, brunch-styled croffles, sandwiches, tacos and Korean dishes such as bulgogi rice bowls. The garlic parmesan fries are a solid snack to have and share amongst friends and the bulgogi K-Tacos provides a tasty fusion between Korean and Mexican flavors.
Although the prices may be on the higher end, it's definitely justified by the quality of the meals being served. The staff, although small, are also extremely friendly and welcoming. Adding on to the great experience, the environment and visual presentation of all the dishes makes it a great spot for photos. With its unique menu and warming atmosphere, Cafe HwaSan is definitely a location worth trying.