Thrift flip
Renovate old clothes and revamp your wardrobe at cheaper price
Self-isolation led students to resort to the internet for comfort and entertainment. As a result of prolonged screen time, coupled with the limited ability to go outside, online shopping has skyrocketed in popularity. According to a recent report by Amazon, the COVID-19 pandemic has led to a 44% increase in consumer spending on their site. Food-delivery businesses such as Uber Eats, Doordash and Postmates have also seen a rise in popularity as people are ordering more food from their favorite restaurants.
 I have fallen victim to cyber shopping more than ever during this pandemic. I would always look forward to going to the mall and making plans with friends and family on where to go, what to look for, what to buy and how much I would allow myself to spend. Online shopping was only something I would do if I could not find a certain product anywhere in stores, like if it was only available in a foreign country or an online-only special.
 When you are not physically able to walk through the aisles of a store, pick up an item and quickly evaluate whether you want it or not, you are much more likely to impulse buy and add random things into your cart. Lately, I find myself perusing the Target and Forever 21 website often and being shocked as soon as I click the checkout button and see the total price of all the clothes I've added. 
Major online clothing retailers such as Zara, H&M and Forever 21 may supply clothes that look as if they were fresh off the runway, but they have a greater social and environmental impact. These retailers often follow the fast fashion business model. These businesses provide trendy clothing at fast rates at the expense of fabric quality in order to reach a wider consumer base. They are usually able to accomplish this through the use of sweatshops that operate in impoverished areas of the world. Workers in these sweatshops are often faced with dangerous machinery, low wages and unregulated working hours. The fast fashion industry also produces negative externalities to the environment. Since trends are constantly evolving, fast fashion brands and their consumers are more likely to use more fabric for clothes, requiring more resources and causing a strain on the environment. 
Instead of buying clothes online, try looking in your closet for clothes you don't wear anymore and find ways to spruce them up to fit the latest trends. Here are some ideas:
1. Cinched tube top
The design for this top was inspired by the "Gina" top from Brandy Melville that I have noticed has seen a surge in popularity on Tik Tok as online personalities such as Charlie D'Amelio and Daisy Keech posted videos wearing the top. The top is regularly priced at around $20, but due to COVID-19, the Brandy Melville online store is closed in the U.S. Summer is drawing near, meaning that many people may be looking into revamping their wardrobe with airy, heat-suited outfits. So, with that in mind, here's a reinvention of Brandy Melville's design as a tube top:
2. Cinched V-neck
This design is a nearly exact dupe of Brandy Melville's "Gina" top using materials I already had lying around at home. This specific top had been on my wishlist for what feels like an eternity, but I could never justify the price and also supporting the fast fashion industry. This DIY has saved me both money and allowed me to reuse old clothes I would have otherwise donated.
3. Tie-strap top
This year's spring season has seen the rise in whimsical, simple tops with tie straps. High-end couture fashion houses, such as Chloe, have featured the look on the runway. Online fast fashion retailers have also caught on to the trend. For example, Revolve has a similar top at a lower price. However, you could get the same shirt without paying anything at all by looking through your closet for old shirts and revamping them.
About the Writer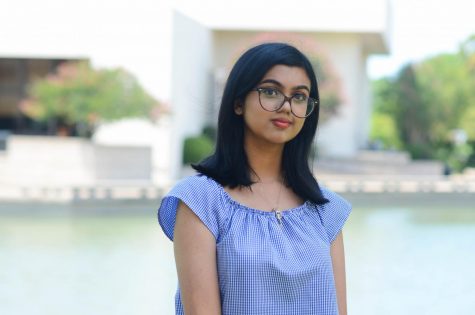 Sonali Menon, Reporter
Sonali Menon is a senior and a reporter for the Panther Prints. She has a passion for writing. This summer, she combined her passions of writing news and...