Posters promote discriminating dress code
A bright pink poster with a jagged magazine cut-out of a woman wearing a white, low-cut and see-through blouse accompanies another picture of a girl wearing a modest, striped shirt. While the white blouse receives a caption indicating the consequences for wearing similar clothes to school, the striped shirt is deemed school-appropriate. The posters, which can be found lining the hallways, promote the sexist nature of the dress code. 
The school should review their existing dress code policy to allow for one that is justifiable, non-discriminatory and gender-neutral. 
The constitution guarantees that citizens have natural rights, including freedom of speech and freedom of expression. For students, that looks a little different. Although their rights are not discarded when they go to school, school districts still have the power to limit students' freedom of speech and expression under certain circumstances. In the case of dress code, schools can ban students from wearing clothing if their outfit will disrupt school, promotes illegal drug use, or contains vulgar or dangerous speech. However, these circumstances are very broad and leave much up to the school's interpretation. Anything could be labeled disruptive in the eyes of the administration, such as baseball caps, ripped or see-through clothing, or short dresses and skirts. Because of this flexibility, the dress code is unfair to students in that their jeans, which reveal a bare knee or shirts that fall slightly off the shoulder are not disruptive but a matter of personal taste. 
While the dress code may seem feasible to many students, staff and parents, a closer look reveals that a majority of the requirements are sexist. For example, the length of pants, the ban against visible shoulders, and the limits on body piercings typically apply to female students only. The dress code posters, which were made by students taking fashion design, only confirm that plenty of students regard the dress code as limiting to girls. Of the 19 posters that can be found on bulletin boards around the school, only two use visuals of boys to demonstrate how the dress code impacts them, too. The posters also don't provide realistic dress code standards for other reasons. Because a majority of the images used depict celebrities modeling revealing outfits typically seen at fancy events, the posters don't accurately reflect students' dress. 
For the most part, the dress code isn't enforced, save for a few staff members who desire to impose it. The reasons why make sense too. When a majority of the students wear at least one article of clothing that goes against dress code, there's no point in requiring that they take off their bandana or find another pair of shorts. Many of the posters indicate that wearing inappropriate clothing to school will result in detention, but most teachers don't implement that rule. Despite the lack of enforcement, the administration should still consider reviewing and changing the existing dress code because it's senseless to keep it when the rationale for the dress code is flawed and people aren't following it anyhow. Besides, if a parent feels comfortable with their child leaving the house wearing a tube top and ripped jeans, then they should be permitted to do so. 
Not everything in the dress code needs to go; it should uphold the Supreme Court's decision to bar students from wearing clothing that contains vulgar language or promotes illegal drug use, such as a shirt advertising a beer company or a street drug. The administration should, however, remove current provisions regarding personal taste, even if they might be considered mildly inappropriate. 
In creating a new dress code that prioritizes limits on bad language or encouragement of illegal activity, but still maintains a students' ability to dress as they wish, the school can have a positive relationship with the community by creating a friendly environment reflected by students' dress. 
About the Writer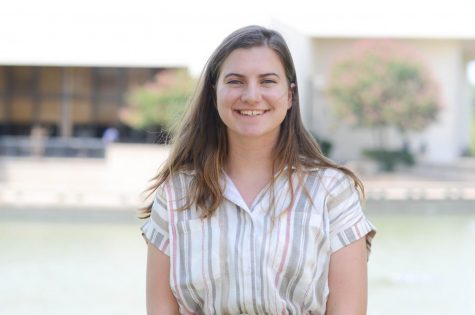 Makayla Herron, Copy and Online Editor
Makayla Herron is a senior, one half of the copy editing team and the online editor for the Panther Prints this year. Makayla has always loved writing...