Walk Out for Change
Students participating in the National School Walkout on the 19th anniversary of the Columbine school shooting began gathering around the pond at 10 a.m. today. Students observed a 10-minute moment of silence to pay respects to shooting victims in the 25-minute- long protest.
"I just really wanted to support [the victims]," senior Destiny Stone said. "I felt really deeply in my soul that I just wanted to give my reverence to people that died in the shooting because I feel like this should stop."
Students were standing on the bridge over the school pond for several minutes until senior Alicia Stephens called for everyone to sit and engage in a 10-minute silent protest.
"It seemed really unorganized," Stephens said. "It seemed like everyone needed a leader. Everyone was just standing there, so I was like, I guess I'll do it."
At the end of the 10-minute period, Principal George King thanked students for coming out and voicing their support for safer school environments.
"I would just like to say sorry to the parents and family members of those that have lost a kid due to a gun shooting," senior Luis Cruz said. "I feel that students should feel safe in school."
Any students participating in the walkout received an excused absence for their second period class. While waiting to receive a pass back to class, students voiced their opinions on gun control.
"The government should run stricter checks on people's backgrounds to see if they qualify for a gun or not," Cruz said. "They should really think about who they're giving a weapon to because not many people can be trusted."
Some students also expressed frustration towards lawmakers.
"Do better," Stone said. "They need to do better."
About the Contributor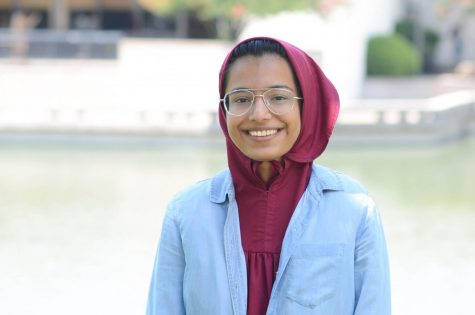 Saifiyah Zaki, Co-Editor-in-Chief
Saifiyah Zaki is a senior serving as co-editor-in-chief this year. In her third year on staff, she hopes to continue telling the stories of students that...