Lifting Spirits with Plano Balloon Festival
by Kayla Vu, Co-Editor in Chief
Sep 29, 2022
As the sun set over Oak Point Park, dozens of hot air balloons came to life for the night launch of the Plano Balloon Festival. While junior Isha Kurlekar and her fellow Key Club members rushed to check in guests, she looked up to witness the spectacle of vibrant balloons decorating the sky. Once night time arrived and the balloons descended, Kurlekar watched as fireworks took over, illuminating the view above them.
"The events at night are just so beautiful," Kurlekar said. "I really enjoyed watching the balloons and seeing the fireworks go off because they're all really pretty once it gets dark outside."
After a two year hiatus due to the pandemic, the Plano Balloon Festival returned to celebrate its 41st anniversary. Around the country, hot air balloon enthusiasts travel to the festival, bringing along their creations. This year, the festival featured over 30 different balloons from around the country. Although it's mainly centered around hot air balloons, the festival also gains traction due to its myriad of events such as their wide selection of concession stands, food trucks and games. 
"It's popular for a lot of reasons," Key Club sponsor Cynthia Tomotaki said. "There are a lot of hot air balloon enthusiasts that are around here. [The festival does] a good job of advertising to our local community, but also for balloon enthusiasts that will also travel [from afar]. When people come, I think they also usually have a good experience because it's so well organized and they do a great job of having plenty of volunteers."
While the festival grew in popularity over the decades, it continues to be a proud non-profit event that also facilitates the opportunity for other non-profit organizations to participate in the occasions of the festival. One particular group, the Plano Kiwanis, shares close ties to the festival with their partnership dating back to nearly the beginning of the festival itself. The Kiwanis are a part of an international organization, and have been serving in this community for 50 years. Here, they continue to sponsor and support local groups such as the Key Club. Immediate Past President Gary Cook recalls his first year at the Plano Balloon Festival.
"Our first year there, we used the pavilion at Bob Woodruff Park," Cook said. "That's where we prepared, early morning, pancakes, sausages and coffee. A lot of people got up early to see those balloons lift off and they were hungry, and so we were serving thousands of people. It's one of those things where it's a lot of hard work [and] a lot of planning, [but] it's always nice to work in a collaborative way for something good."
Key Club this year also took part volunteering with the group having the most volunteers out of all the other district's schools. When the afternoon heat was the strongest, members handed out fans to guests and ran ticket sales for seven hour long shifts.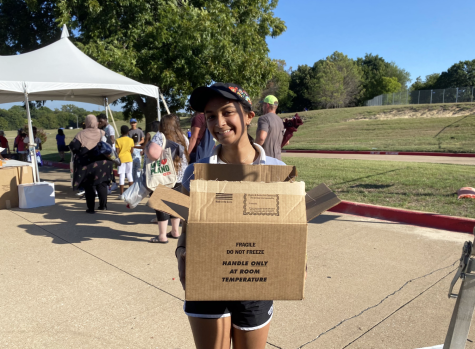 "I think we did a good job of keeping everything controlled," Kurlekar said. "When I was scanning tickets there was always a never-ending line of people even an hour before the festival was closing. We definitely helped speed along the process of getting people into the festival."
Although the festival had to close early due to weather issues, many were still glad to have it back for most of the weekend after its absence. For many, the festival holds great significance to the city's culture and identity.
"I think it's so important because it's very wholesome," Tomotaki said. "I think hot air balloons have a sense of joy about them. When you see them it just makes you smile. That joy just permeates the community and the community itself is very proud to have this festival."