Freshman published author reflects on writing progress
Four open notebooks sprawl across a long desk, circling around a laptop open to a fresh new document. Freshman Maryam Ahmed faces the scattered ideas, her mind racing while the computer cursor blinks slowly. As she looks across the smattering of papers, her mind begins to connect the dots and a story comes together.
Ahmed became a published author in seventh grade, but now in the process of writing her second novel, she says she isn't a fan of her first publication. 
"The level of writing I'm at right now honestly can't be compared to the book I wrote in seventh grade," Ahmed said. "I'm not even the same person. I feel like I've progressed and changed so much since then — it's just not how I want to be defined."
The novel, titled "Elite," is a science fiction story that follows a young girl searching for answers after her aunt becomes the latest victim of a series of mysterious deaths in Austin, Texas. Ahmed's seventh grade English teacher Lorrie Wiedenbruch says her observation skills and sensory imagery makes the novel a realistic reading experience.
"Maryam is a very astute observer of human nature," Wiedenbruch said. "Some people are good at observing, but they're not as skilled at putting their observations into writing, and some people are good at writing, but they're not skilled at observing human nature. You really have to have that combination to be a successful writer, and Maryam really exhibits that skill."
Wiedenbruch also says she applauds Ahmed's drive and motivation in completing an entire novel at such a young age. Her current English teacher Jerrod Kay agrees, saying it's unusual for someone so young to show such commitment.
"There's something to be said about the amount of recursive thought that goes into writing a novel," Kay said. "You have to come back to it and keep coming back to it and I think those skills carry over well into being a good student."
During the iterative editing process, Ahmed looks to the people around her for feedback. In middle school, she used to exchange writings over text with freshman Anika Pandit. The two would give each other prompts and then write for several minutes before sharing their results.
"We would sort of collaborate and get inspiration from each other," Pandit said. "We only really sent each other little blurbs but I could tell she's very passionate about writing and likes to play around with a lot of different techniques."
When the novel was first published, Pandit says Ahmed simply texted her letting her know and that many people at their school never knew she became a published author. 
"Frankly, I consider this first [novel] a huge screw-up," Ahmed said. "I just kind of rushed into it and I don't think I did a good job on it."
While her perspective on her first book has changed, her love for writing has not. Ahmed recalls first falling in love with writing at 8 years old after receiving a writing prompt in her third grade English class. 
"I kind of wanted to understand how I see things and to explore how someone else with maybe different experiences sees the same thing," Ahmed said. "I think that's what really sparked the creative part of me was the fact that you could just look at the world from a completely different set of eyes and can literally just create universes out of thin air." 
This love for writing pushed Ahmed to apply for the IB program, which relies on a writing-based curriculum. Students enrolled in the IB Diploma Programme must complete at least one written paper for each of their classes, along with an extended essay. 
"I thought about it and I was like, 'A four thousand word essay? That sounds awesome,'" Ahmed said. "It's like a dream come true for me." 
In the future, she says she wouldn't want to pursue writing full-time, instead considering copy editing as a career. 
"I wouldn't be surprised if 20 years from now I saw her name next to some of her favorite authors," Kay said. "She can do anything."
About the Contributor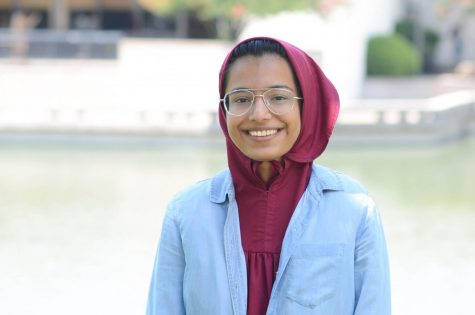 Saifiyah Zaki, Co-Editor-in-Chief
Saifiyah Zaki is a senior serving as co-editor-in-chief this year. In her third year on staff, she hopes to continue telling the stories of students that...