Cinderella: Modern Takes on Classic Fairy Tales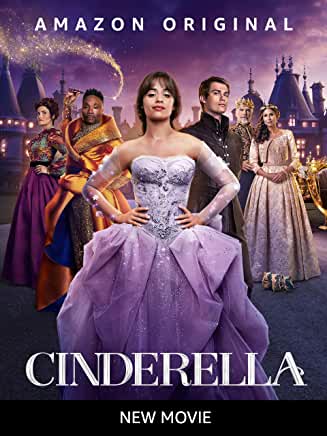 Amazon Prime's new "Cinderella" adaptation with Camila Cabello and Billy Porter has gotten lots of attention from critics lately, particularly for its modern take on the classic story. Since its release on Sept. 3, it received 1.1 million streams on Amazon Prime. Although this is a Cinderella story, it is very different compared to other adaptations made from the same source material. 
Opening with the hit song "Rhythm Nation" by Janet Jackson, it immediately establishes itself as a jukebox musical adaptation with hit songs and choreography to match. The score of this movie is mostly inspired by songs of the 80s and 90s, with some spanning from the past 20 years such as Ed Sheeran's "Perfect." The choreography is comparative to Lin Manuel Miranda's "Hamilton" in that there are ballads with little to no choreography such as the original song, "Million to One," and group numbers with lots of choreography such as the ending "Let's Get Loud." 
There are some aspects that are similar to that of "Ella Enchanted." It uses the same song, "Somebody to Love" by Queen, but in different contexts. In "Ella Enchanted," there is a scene in which Ella sings toward the middle of the movie in a bar for giants where they insist she sings for them, however in "Cinderella," Prince Robert sings about how he needs to find a bride while also wants to find love at the same time. There is also a similarity in actresses: Minnie Driver plays the caretaker of Ella in "Ella Enchanted," and she plays the Queen Beatrice in Amazon Prime's "Cinderella."
The mannerisms in each character are much more different than the other versions of this fairytale. The dialects and costumes match the original 1950 Disney adaptation and the live-action 2018 version, but the way they talk and move is more fluid and modern than in the 1950s version. In "A Cinderella Story" with Chad Michael Murray, it is set in the 2000s with the appropriate costumes and slang to make it relevant to that time period. In "Another Cinderella Story," it is the same concept as "A Cinderella Story," but with different choreography and motive for Mary, this version's Cinderella, played by Selena Gomez.
Compared to the 1950 and 2018 version, it is more representative of modern times with more slang and self-awareness. While not as culturally diverse as the 1997 version with Brandy, it is still more diverse than the others. This movie is very female-heavy and demonstrates lots of feminism through Cinderella and Princess Gwen. Cinderella decides to follow her dream of becoming a fashion designer and business entrepreneur, defying the standards of those jobs only being for men. Gwen, having all of these ideas to better the monarchy-driven country, ends up representing as a ruler instead of her brother, who would usually receive the role as a male.
There is a sentimental moment between Cinderella and the stepmother at the end of the movie which is completely different from the other interpretations of the story. They share stories with one another and connect through their past and present goals. Her sisters are also not as mean as they are in other adaptations, being portrayed as having a kind conscience rather than their sole purpose being to mess up Cinderella's goals in life. They feel sorry and show pity for Cinderella when her stepmother does or says something mean to her.
The basic premise of the story is the same for each adaptation: a girl has a mean stepmother and stepsisters, she falls in love with a boy, she goes to some iteration of a dance, she loses something, the boy eventually finds her, and they get together in the end. This is overall the only thing all Cinderella adaptations have in common, along with the fact that the main female character has a dress for the dance that makes her very noticeable to everyone, whether it be because it's a different color, or she's wearing it with a very big petticoat.
The ending is very different with no one having a punishment. It is much more of a happy ending with Cinderella following her dream of fashion and ending up with Prince Robert, and with the stepmother and stepsisters being happy for Ella. All of the other versions end with Cinderella achieving her goal, whether that be getting married, achieving her ambition in life, or both, and the stepmother and sisters not getting their happy ending. This story is more representative of the false reality of a forgive-and-forget type of situation.
While the reviews are up and down with critics both raving and trashing this movie, Amazon Prime's "Cinderella" is more inclusive and representative of the world we live in today. Taking into account the time difference between each iteration of the story, it makes sense for the songs and script to be modernized to fit the expectations of an inclusive and diverse audience.