How to thrive on your next thrift haul
All of us are subject to binge-watching YouTube, whether it's for tutorials, comedy, gaming or any other form of entertainment. If you've gone on YouTube at any time within the last year, then you've probably seen thrift hauls. Thrifting is one of the fastest growing subgenres on YouTube this year with celebrities and influencers like Emma Chamberlain, Haley Pham, Marla Catherine and loads of other channels out there. Thrifting, and specifically thrift hauls, are at the forefront of YouTube. Here are a couple of tips and tricks on how to get the best bang for your buck at thrift hauls.
Start your journey off at Starbucks and order an iced coffee with almond milk in an attempt to channel your inner Emma Chamberlain. From there, you can head over to Family Thrift Center, a large thrift store located off K Avenue and Park. Most thrift stores that aren't chains like Goodwill or Salvation Army tend to be disorganized, and Family Thrift is no exception. When you first enter the store, you'll notice that the clothes aren't sectioned off by gender, size or type of clothing. Each row is a smorgasbord of clothing for men, women and children. At first glance this may look intimidating, so to combat that issue, just grab a cart and go down each aisle, looking through every piece of clothing. Thrifting is all about finding hidden gems that might not have caught your eye initially so be sure to keep an open mind as you scan through the clothes.
Family Thrift, like many other stores, have prices that vary by day. They receive new shipments on Thursdays, when prices start at $2, but as the week goes on and selection gets slimmer, prices fall by a quarter each day. So if you want cheaper options, the best day to go is Wednesday, where everything costs 25 cents. However, if you want a greater selection, go on Thursday. 
Stand-alone stores tend to have different amenities at each one while with chains you can expect the same overall standards no matter what location you choose. Family Thrift, The Plaid Tag and many other thrift stores around Plano lack fitting rooms, so wear something easy to layer — a tank top and shorts or leggings. Wearing a basic outfit makes it incredibly easy to try on shirts, jackets and even jeans in a corner of the store, away from the crowd. Not having access to a fitting room may sound like a hassle, but consider it a part of the whole thrifting experience.
One reason why thrift hauls are so popular in teenage pop culture is because of a term coined "thrift flip," when someone changes a seemingly ugly or ill-fitting piece of clothing into something cuter through a DIY process. It is important to keep the "thrift flip" process in mind while you're shopping. Cropping, hemming or resizing an item with potential is relatively easy and a fun way to make your clothing unique. You should never go into a thrift store with a closed mind or expectations of certain pieces you need. 
Just like any good thrift-flip youtuber knows, before you finish your endeavour into the thrift store, make sure you check for rips or stains on your clothes. Buying second hand clothing comes with the possibility of the presence of  some memories left behind by the previous owner and you wouldn't want to waste your money. Thrift stores are a playground for creativity and one of the only stores where you can truly find unique pieces. Don't focus on finding great brands for a low price; instead, branch out into items you genuinely like regardless of their status. The most important thing to keep in mind throughout the whole process is to have fun and let your creativity take the lead! Pictured below are a few outfits that have been thrifted entirely to motivate you on your creative journey! 
About the Writer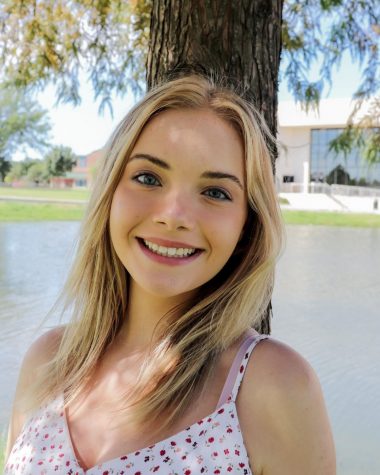 Bree Johnson, Co-Editor in Chief
Bree Johnson is a senior and is the Co-Editor in Chief of Design for Panther Prints. Bree is excited to put her creativity to use this year through leading...