Vegan-friendly Holiday Recipes
It's holiday season and, to me, this means an overwhelming amount of home-cooked food that makes me feel as if I just gained 20 pounds in one meal. Most of these home-cooked snacks usually include lots of butter, eggs and milk. However, if you are vegan or vegetarian, there are still options for you to enjoy some sweet treats during the holiday time.
Mac and Cheese
Serves 4
Ingredients:
10 ounces macaroni noodles

4 tablespoons avocado oil

4-5 tablespoons all-purpose flour

2 – 2 1/4 cups unsweetened almond milk

Salt and pepper

1/2 cup vegan parmesan cheese (plus more for serving)

4-6 tablespoons

nutritional yeast

(plus more for topping)

1/4 cup breadcrumbs
Instructions:
To prepare the pasta, add macaroni to a large pot (think salad mixing bowl) of boiling, well-salted water. Stir to prevent noodles from sticking and boil for about eight to 10 minutes. Drain and set aside.

To prepare the sauce, add oil to a large skillet over medium heat, stir and heat for one to two minutes.

Immediately add flour and whisk, cook for one minute.

Add almond milk 1/2 cup at a time, whisking to prevent clumps, until two cups have been added. Cook for two minutes, stirring frequently.

Transfer sauce to a blender and add salt and pepper, vegan parmesan cheese and nutritional yeast, and blend on high until creamy and smooth. Taste and adjust seasonings as needed.

Return the sauce back to the skillet and cook over low heat for two to three minutes until warm and slightly thick.

Add cooked, drained pasta and mix to coat the pasta with the sauce. Then top with another tablespoon of nutritional yeast and 1/4 cup breadcrumbs.

Broil on high on the top rack of your oven for one to two minutes, or until golden brown. Watch closely as it can burn quickly.

Serve immediately. I recommend topping it with an extra pinch of vegan parmesan cheese and a little red pepper flake.
Recipe adapted from Minimalist Baker. For original recipe click here.
Biscuits
Serves 4
Ingredients:
1 cup unsweetened plain almond milk

1 tablespoon fresh lemon juice

2 cups unbleached all-purpose flour

1 tablespoon baking powder

1/2 teaspoon baking soda

3/4 teaspoons sea salt

4 tablespoons non-dairy, unsalted butter
Instructions:
Preheat oven to 450 degrees F

Add lemon juice to almond milk in a small bowl to make vegan buttermilk. Set aside.

In a large mixing bowl, whisk together dry ingredients (all-purpose flour, baking powder, baking soda and sea salt).

Add cold butter and use hands to combine the two until only small pieces remain, resembling sand. Make sure to work quickly so the butter doesn't get too warm.

Make a well in the dry ingredients and stir gently while pouring in the vegan buttermilk 1/4 cup at a time. Stir until just slightly combined.

Transfer the mixture onto a lightly floured surface, dust the top with a bit of flour and then turn the dough over five to six times.

Form dough into a 1-inch thick disc.

Use a 1-inch thick dough cutter and push straight down through the dough, then slightly twist. Repeat and place biscuits on a baking sheet in two rows, making sure they just touch; this will help them rise uniformly. Gently reform the dough and cut out one or two more biscuits; you should have seven or eight.

Next brush the tops with a bit more of melted non-dairy butter and gently press a small divot in the center using two fingers. This will also help them rise evenly, so the middle won't form a dome.

Bake for 10-15 minutes or until fluffy and slightly golden brown. Serve immediately.
Chocolate Peppermint Cupcakes
Dozen cupcakes
Ingredients:
1/2 cup unsweetened plain almond milk

3/4 teaspoon apple cider vinegar or lemon juice

2 batches flax eggs

1 1/2 teaspoon baking soda

1/3 cup

coconut sugar

1/3 cup maple syrup or agave nectar

1/4 cup melted coconut oil or vegan butter

1 cup applesauce

1/4 teaspoon sea salt

1/4 -1/2 teaspoon peppermint extract

1/2 cup unsweetened cocoa powder

1/2 cup almond meal

1/4 cup gluten-free oat flour

3/4 cup gluten-free flour blend
TOPPINGS:
Two 14-ounce can coconut cream or full-fat coconut milk

1/2 – 3/4 cup icing/powdered sugar

1/4-1/2 teaspoon peppermint extract

Crushed candy canes or sprinkles

Fresh mint
Instructions:
Chill your coconut cream or coconut milk in the refrigerator overnight, being sure not to shake the can to prevent separation of the cream and liquid.
Preheat oven to 375 degrees F and line a muffin tin with 11 paper liners, or lightly grease.

Measure out almond milk and add vinegar or lemon juice to a small to medium bowl. Stir and let curdle while moving onto the next step.

Prepare flax eggs in a large mixing bowl and let rest for five minutes.

Add baking soda to the almond milk-vinegar mixture and stir.

Add the sugar, maple syrup and almond milk mixture to the flax egg and beat. Then add melted coconut oil, applesauce, salt and peppermint extract and mix.

Add cocoa powder, almond meal, oat flour and gluten-free flour blend and beat. If the batter appears too thick, add a touch more almond milk, or adjust as needed. If too thin, add a little more gluten-free flour blend and cocoa powder. Taste and adjust the amount of peppermint extract as needed.

Divide batter evenly between lined muffin tins, filling generously 3/4 full.

Bake for 30-35 minutes until each looks puffy or until a toothpick inserted into the center comes out clean.

Let rest in the tin for 10-15 minutes, then remove from the oven and let the cupcakes cool on a cooling rack.
TOPPINGS
The next day, chill a large mixing bowl 10 minutes before whipping.

Remove the coconut cream or milk from the fridge without shaking and remove the lid. Scrape out the top, thickened cream and throw away the liquid (or use it later  for smoothies.)

Place hardened cream in your chilled mixing bowl. Beat for 30 seconds until light and fluffy, then add peppermint extract and organic powdered sugar. Taste and adjust flavors as needed.

Scoop the mixture into a large freezer bag and set in refrigerator to chill.

Once cupcakes are completely cooled and you're ready to serve, cut a corner of the coconut whipped cream bag off and squeeze a generous amount onto each cupcake, don't frost until serving for best results. You'll likely have leftovers.

Lastly, add desired toppings, such as crushed peppermint candy and fresh mint leaves.
About the Contributor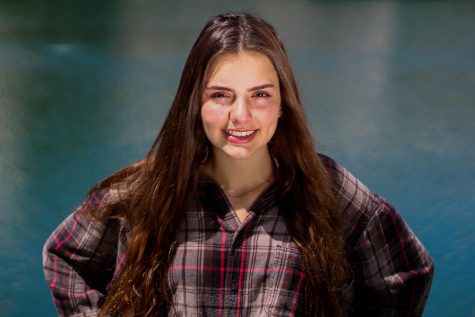 Sarah Dolder, Copy Editor
Sarah Dolder is excited to serve as one of the two copy editors during her last year of high school. She began pursuing journalism her junior year, serving...