How to Practice #SelfCareSunday Before Exams
Hang on for a minute...we're trying to find some more stories you might like.
Some weeks just feel so long. The days are still 24 hours and the weeks only seven days, but there's a certain point when the daily grind really starts to grind your gears. Something tells me that's exactly what exam week is going to feel like, so here's how to best #SelfCareSunday to rejuvenate before an undoubtedly grueling week.
Disclaimer: Self-care is all about what makes you feel like your best self, so that may not look the same for you as it does for me. Plus, self-care is an art, not a science. Leave the equations for your physics exam.
Get up and get social in the a.m.
Waking up is hard. It's even harder when you have a full day of studying ahead of you, which makes the blissful, responsibility-free world of your comforters even more enticing. Having an event to look forward to or an obligation to get up and at 'em makes it much easier. Grab brunch with friends or meet someone for coffee. Caffeine helps you wake up, and if you're like me, it might be the reason you get up at all. If you attend a place of worship on Sundays, use this time to meet up and discuss with like-minded people and renew your sense of purpose. Wherever you choose to venture, you'll be glad you did.
Sweat out the stress.
Whether you're looking for an excuse to put off studying or something to boost your brain power, exercise could be the answer to both. Not only does exercise fight off the Sunday Scaries with a rush of endorphins, but it also improves memory and thinking skills. Of course, you can always hit up the gym or go for a run, but if running isn't your speed, try a different form of exercise. On one of Texas's weirdly warm winter days, I recently rediscovered my love of biking. Riding through the trails at a local park is a great way to get some fresh air and clear your head.  
If you have trouble making time to exercise, exercise classes can help carve out a time in your schedule to make sure you get in that sweat. I can't think about SoulCycle without my bank account quaking, but many community centers or regular gyms offer budget-friendly versions of trendy classes. Lately, I've been loving the barre class at my local YMCA that rivals the free trial I did at Pure Barre.
Meal prep with pep.
I'm not much of a cook, but I've been getting bolder in the kitchen lately— so bold that I even made these vegan, gluten-free sweet potato muffins. (Don't let the labels fool you; they're good.) Muffins also make an easily-transportable breakfast that enables my barely-on-time habits. While I don't recommend zooming into the back of Africa at 8:56 a.m. and half-running to class, preparing a healthy breakfast ahead of time will ensure that you have the proper nutrition to keep you pushing through the hundreds of questions you'll stare down on test day.
Mask and relax.
Face masks have become synonymous with #SelfCareSunday. They won't fix all your problems as Twitter might suggest, but they're a good starting point. My go-to routine starts with the classic Aztec Healing Clay Mask to really deep clean my pores. It's a little harsh, so I wouldn't recommend it for those with sensitive skin. That's also why I finish off with the Glossier Moisturizing Moon Mask— my holy grail product for winter skincare. The mask somehow produces a quilt-like comfort that's simultaneously cool to the touch.
While the masks do their thing, you should at least attempt to relax. Light a candle and tidy up your room, or veg out with some Netflix. I usually find myself editing articles or cramming my last bit of calculus homework, which might sound terrible, but the face mask cancels out the stress, right? It's like PEMDAS or something. If I do relax, I'm most likely scrolling through the latest Girls' Night In newsletter or doing my next tip (spoilers!).
Write. You can't be wrong.
I know you're stressed with exams right now, but there is another, even more important examination you should consider: self-examination. Before a busy week, take some time to reflect on how you're feeling, what you've accomplished and what you want to accomplish. Putting things into writing manifests your goals into physical form and can help validate your emotions. Research also suggests it might be one of the most effective forms of self-care and good for a whole host of other unbelievable things. Your writing doesn't have to be fancy or even remotely good; just open up a page and vomit your flow of consciousness, or make bullet points on bullet points.
About the Writer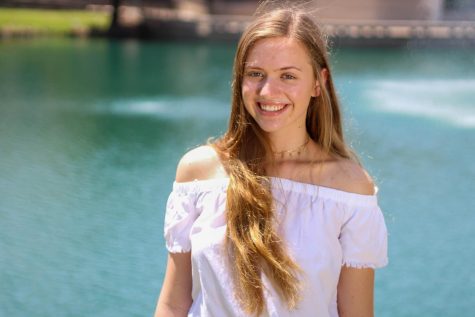 Abby Blasingame, Editor-in-Chief
Abby Blasingame is a senior at Plano East and this year's editor-in-chief of the Panther Prints. Newspaper was one of the highlights of her junior year,...