Two students place in art contest honoring Martin Luther King Jr.
Plano ISD's annual Martin Luther King Jr. tribute art contest took place Thursday, Jan. 23 and displayed juniors Omar Uzun and Tristan Talkington's artworks at Williams High School from 6:30 to 8:15 p.m.
The contest is designed to illustrate students' talent as well as diversity in Plano, with this year's theme titled "Plano ISD Proud." The event awarded students' abilities to showcase this theme as well as praise Martin Luther King Jr. for his role in the civil rights movement.
"I was quite shocked [that I placed]," Uzun said. "I didn't think [my piece] would be that good, [but] I'm [happy] with it. I hope it influences someone else to do something better."
Talkington, who was the finalist for the high school division, used his personal art style and adapted it to the prompt. For this piece, he used a photograph of a school in Plano during the 1960s and layered it with other images and text.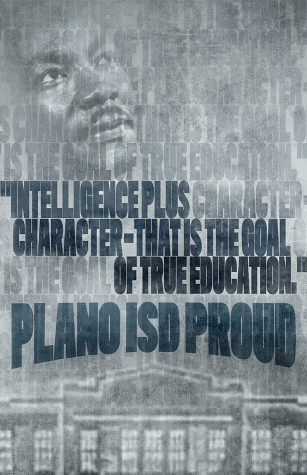 "The old Plano school is from way back, when prejudice would've been a problem, and you have Martin Luther King who helped to change that," Talkington said. "So there's that contrast, but also the fact that those two fit together. I feel like [the piece] gives us where we were and where we are now."
Uzun, who was one of three semifinalists for the high school division, relied on his experiences living in several countries to exemplify diversity. Uzun has lived in Tanzania, Thailand, Turkey and Yemen as well as different areas of the U.S., including Chicago and Plano — all of which are represented in his piece.  
"This is one of the most diverse schools I've been to," Uzun said. "[This piece] illustrates that by [showing] all people, all DNAs, all histories [and] all cultures of everyone." 
This district-level competition offers a new theme every year, with years past featuring ones such as "I am Plano ISD," "Creating Our Future" and "Marking Our Mark." Visual arts team leader, Colin McGrane, says the theme often stems from the district's vision for that year.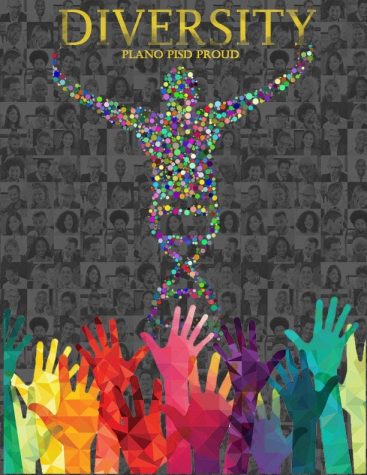 "I had never done anything like [this piece]," Talkington said. "It's not something I'd make normally, but I also kind of liked that because it brought me outside of [my] normal."
McGrane, who teaches Uzun and Talkington, required all of his students to submit an artwork for the competition. He also encouraged his students to use graphic design to create something that truly embodied Plano ISD and Martin Luther King Jr. 
"The students have a difficult time because they're supposed to make an artwork that resonates with MLK's message, yet doesn't really have his face, and then somehow tie that message into PISD," McGrane said. "In years past, a lot of people just did portraits of MLK, and that's something they're trying to get rid of because I think MLK himself would rather people echo his message." 
McGrane and Principal George King attended the event, which featured an art gallery and live performances from students. Students' art from the contest will also be on display at the Cox Building until Feb. 18. 
"I am thrilled that we have so much artistic talent here and I think it's very representative of [our school] to participate in this art contest given the diversity [here]," George King said. "I think it speaks well of our art program to not only compete, but to excel."