Golden boy
Junior breaks new ground as first male manager of drill team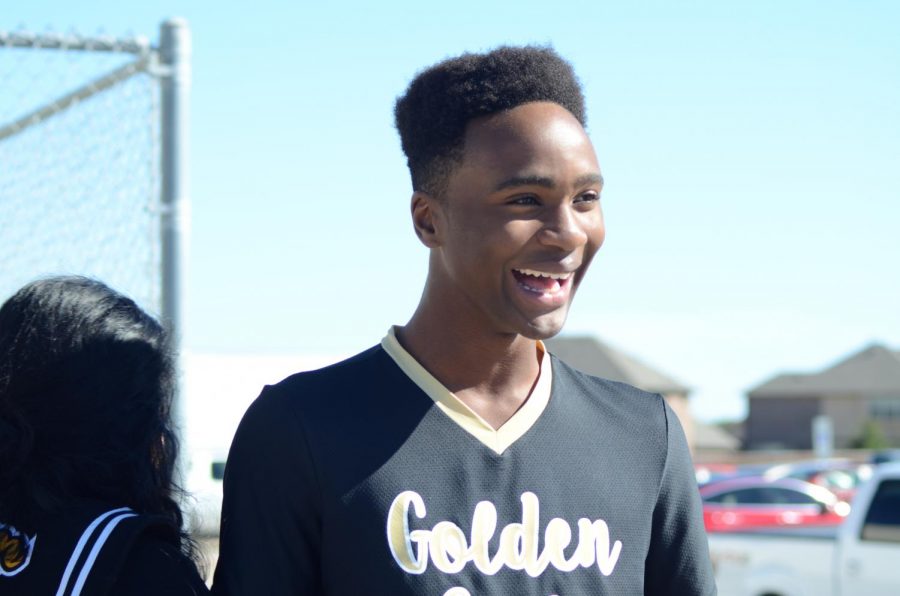 Junior Charles Igbo stands with the other managers, discussing the agenda for the practice and watching the dancers warm up, occasionally cheering them on. They meet the directors at the front to help gather supplies, which Igbo quickly jumps at the chance to do. His co-managers and the dancers all smile at him, happy to have him as the first male manager of the Golden Girls in over a decade.
After hearing an announcement about the McMillen Dazzlers his freshman year, he considered what being a part of the team might look like. With prodding from his friends and other dancers, he decided to explore his love for dance further as a manager of the drill team.
"I thought, 'Oh, that's really cool [and] I want to maybe try that,'" Igbo said. "Being a manager my sophomore year, it was fun because I got to watch it all happen from the front."  
Golden Girls Director Mackenzie McCall said they had male managers, then called escorts, on the team long before she was a director, but this is the first year she has seen boys, like Igbo, pose an interest in being on the team.
"I think I was nervous at first, but I also didn't know Charles," McCall said. "Once you know him, he's very easygoing; very open. He's artsy and he likes to be a part of stuff, [but] he's also very talented." 
While Igbo said he serves as an assistant to the director, he also does his best to be there for all of the dancers on the team in any way he can, such as putting away their jerseys, playing their music, or recording their dances. 
"It's kind of whatever they need, [the other managers and I] are there to help them with," Igbo said. "Sometimes it's just being there for emotional support for some because they sometimes have bad days."
When he gets the chance, Igbo enjoys teasing the dancers by taking their letterman jackets and hats or the officers' batons. Sometimes when the team practices their entrance, he'll take the microphone and introduce one of the line members as an officer, which makes them feel appreciated. Other times, however, he'll introduce himself as an officer.
"He can do the officer strut probably better than any of the officers," McCall said. "He was never taught it, he just watches, and he's very talented at watching and picking up dances."
Despite Igbo's experience dancing in musical theatre, he said he never learned the technique of it, which is what he feels hurt him in his audition for a dancing position on the Golden Girls last spring. This year, McCall and the other dancers have provided him with further expertise as well as his classes with the Amotion Dance company.
"I could see myself trying out again," Igbo said. "I don't think the [Golden Girls] would look any different than they do now because I'm already known to be on the team and I [already] dance with them for fun sometimes, [but] I think doing it for real would be a really nice feeling." 
The dancers feel happy to have him on the team and know that, after building experience as a manager at McMillen, they can rely on him for help with their dances and friendships too. 
"I know a lot of them are really excited about it," said close friend of Igbo and junior line member Rachel Harvey. "I know some of them haven't had a guy on the team before, but they're all really welcoming. I'm one of his biggest fans so even if they're weird about him, I'm always cheering him on, but he's so easy to get along with and so go-with-the-flow that it's hard not to like him."
In the years to come, McCall suspects that more boys will want to join the team, but she's confident that Igbo would thrive as the first male dancer of the Golden Girls. 
"He's obviously very loved on our team and he's a big part of it," McCall said. "Our organization is evolving, [and] I'm more comfortable with [having a male dancer]. I think if we're going to, he would be a good person to set the precedent."
About the Writer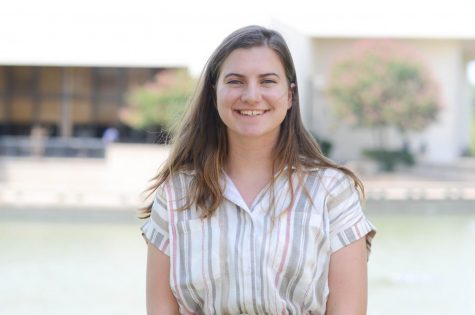 Makayla Herron, Copy and Online Editor
Makayla Herron is a senior, one half of the copy editing team and the online editor for the Panther Prints this year. Makayla has always loved writing...