Alexander in action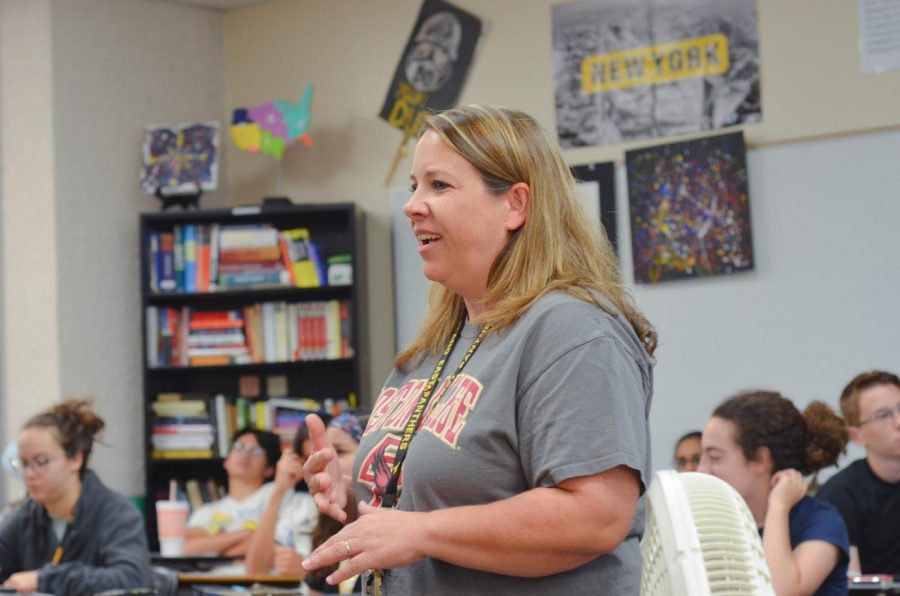 As the new school year commences, bringing 37 new teachers with it, Kristy Alexander has taken on new responsibilities as an American Studies and Senate teacher, as well as one of four teacher mentors. 
Three of the four American Studies, or AmStud, teachers from the 2018-2019 school year accepted new positions, leaving Alexander as the only veteran teacher and changing her role in the program. AmStud relies on teacher collaboration, as teacher teams of two lead the class, and focuses on interactive lessons and group work rather than lectures to combine a curriculum of AP English and AP American history.  
"[The teachers leaving] just leaves me as being the stability, the person who's been here and knows the systems and processes," Alexander said. "It's a new opportunity and a welcome opportunity to change some of the things we've been doing."
Alexander not only stepped up to lead AmStud, but took on a role in the new Plano ISD mentor program where she mentors seven teachers new to the school this year, including her teaching partner, Will Weidner. 
"[She's] intimidating as well because she is so on it," Weidner said. "She's able to make me better where I lack because of my inexperience. She gives me the room to grow."
Last year, Alexander helped senate teacher Skyla Harvey with the student senate class during fourth period everyday. Due to her increased workload, she's had to adjust the time spent in the class, though she didn't want to give up her contribution altogether. 
"I genuinely feel like a huge part of senate is missing everyday because she is unable to be in class [at times]," senior and senator Medha Mondal said. 
Harvey and Alexander decided to implement online daily logs for their students to stay connected to Alexander when she's out of the class. 
"Her and I make a good team so I didn't want to have to start all over with someone else," Harvey said. "It's harder, but it's just as good."
Alexander, going on her 16th year teaching at the school and second year assisting senate, believes she's been given a large responsibility this school year, but expects positive changes to the AmStud program as well as success from the senator leadership she helped choose. 
"Not only is she well aware of her capability, [but] if something is not able to be done she [is able to] ask for help or say, 'I may have trouble with this' so she doesn't take on too much," Weidner said. "You wouldn't know if she felt overwhelmed anyways because she takes it with such poise."