Real World Applicants
Students attend job fair, apply for summer internships
Hang on for a minute...we're trying to find some more stories you might like.
Incoming juniors and seniors gathered at the Plano Event Center on April 26 for the Plano Mayor's Summer Internship Program Job Fair, ready to interview with various companies to land one of 120 spots as an intern for eight weeks in the summer.
"[The internship program] gives a good opportunity to learn or work in a working environment, as opposed to just normal classes every day," junior Jaden Banze said.
After applying for the internship, around 400 students attended the Internship Prep day on March 23 to learn interviewing skills, resume-building strategies and other work skills in preparation for the job fair, where they talked to companies who had selected their resume in the interest of working with them. Companies in summer 2018 included the Children's Medical Center, JPMorgan Chase & Co. and Toyota Motors North America.
"It wasn't necessarily just an internship," senior Shane Moore said. "We were really networking with all the other employees, and at first it startled me because I'm talking every day to a bunch of people that are in their 40s and I'm a 17-year-old."
Tasks vary from job to job, but between the new environment and the networking skills called into use daily, students' internships are more akin to jobs than schoolwork. While working in Learning Operations at McAfee last year, junior Kavin Sitsabeshon had to adjust to the way the company's system worked with the help of online research, his superiors' advice and his own problem-solving strategies.
"Getting used to that, 'Here's a project. Work on it. Finish it by this time' was different from school where you're explained everything," Sitsabeshon said. "[At the internship], you rely on the internet for a lot and your superiors."
Networking and communication skills prevailed for students throughout difficulties and challenges in the internships. Relationship building is highly valued among employers, and the U.S. Bureau of Labor Statistics estimates that 70% of all jobs are found through networking.
"For recommendations, I think it's really important to build that connection with somebody so they know how you will work in a job," Sitsabeshon said.
Moore didn't land a position his first year, but came back in the summer after his junior year and became a personal assistant to mayor Harry LaRosiliere. Moore not only worked for LaRosiliere but formed a friendship with him as well, creating a personal handshake and getting the opportunity to accompany him to a ribbon-cutting ceremony.
"I still talk to a lot of people that I met," Moore said. "I definitely got a lot of communication knowledge and skills [so] I can apply everything I learned for many years to come, even if I'm not working at the City of Plano."
Despite his lack of experience compared to the college interns, while working at telecommunications company Ericsson, Banze received the same expectations and treatment as those older than him, such as adjusting to new technical language and the automating language Visual Basic for Applications (VBA).
"It was quite difficult, but once you get used to the workload and everything, it just becomes easier and more efficient," Banze said. "By the end of the program, I was just knocking out my daily tasks and having fun for the rest of the day."
In between assignments, Banze enjoyed the corporate events the company provided, including an all-expenses-paid trip to Six Flags with the other interns. Banze also got the opportunity to set up an escape room for a children's tech camp, with games and puzzles relating to computer programming.
"It was just good to be there every day, getting used to work life and it was kind of hard getting used to school life again because of bell schedules," Banze said.
Sitsabeshon remembers being nervous during his first time at the job fair and feeling badly about his first interview. However, his second interview went well because he was able to establish a dynamic with the interviewer.
"Definitely do a lot of research on the companies you're interviewing for because it shows that you have a lot of confidence about what you know about the company and it shows to them that you know what you're talking about," Moore said.
Sitsabeshon and Banze both applied to be interns again this year with the skills they took away from the year before, such as resilience during difficult projects and relationship building.
"For the job, just give it your 100% and really talk to the people you're working with and look to them for help because they're always really helpful and they're always really accommodating," Sitsabeshon said. "They understand that you're just a high school student."
About the Contributors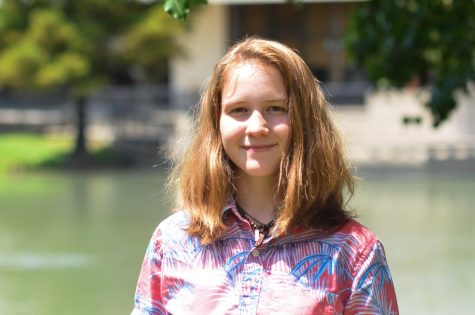 Juliette Roberts, Copy Editor
Juliette Roberts is a senior spending her third year on the Panther Prints staff as one half of the copy editing team. An amazing staff and teacher have...