Sparing is Caring
Bowling club builds communities with CARE project
Hang on for a minute...we're trying to find some more stories you might like.
The bowling team concluded their project, Panther Bowlers CARE, at the Plano Super Bowl on Feb. 18, spending a morning bowling with children from City House, a shelter and residential service. CARE stands for Connecting with local organizations, Acknowledging challenges in the community, and Representing East in a positive manner.
"[The event is about] getting [the children] used to different social environments that they may not be able to get at home," Direct Care Specialist for City House JerSean Walder said. "[It's about] getting them used to different atmospheres and used to being around different types of people and different cultures."
In working with City House, the team aimed to not only apply their skills to help others, but to give children a friendly, interactive atmosphere. This means that the room is always abounding with chatter and excited conversation between bowlers and the children, amidst all the sounds of balls rolling towards a sure strike or a spare and pins clattering to the floor.
"[The kids] have a lot of smiles and a lot of laughter here so it looks like they're having a really good time," Walder said. "They really like meeting new people and trying new things, so it's a very exciting time for them."
During the event, each Panther bowler works with two children per lane, teaching them some basics about the sport while congratulating them throughout the experience. An hour into the event, the smell of pizza fills the room and everybody takes a break from bowling to enjoy some lunch.
"I love kids," senior and varsity bowler Bennett Donnelson said. "Trying to teach them how to bowl is actually pretty funny — but not funny in a bad way. I love it."
Two other projects raised money in order to fund the event. In October 2018, bowlers handcrafted Halloween cards for patients at Collinwood Nursing and Rehabilitation and for Valentine's Day, they made goodie bags for children at the Children's Advocacy Center.
This was their first year launching the CARE project, but Coach Dawn Klapper plans to pick it up again next year.
"Over the years that I've been coaching, we've had a lot of kids in the National Honors Society and for other reasons need community service hours," Klapper said. "I figured [it's] a great way to do something great in the community, and we get the kids some community service hours as well. They can give back doing something they love."
The CARE project is all about giving back to the community, but that's not a big stretch from the sport itself, which, according to teammates, is all about the relationships they build in their spare time.
"For me, [bowling] is just a community of people who really enjoy something," senior and JV bowler Kennedy Williams said.
Although some members have bowled for years before they joined the team, many came to their first practice with little to no experience. Williams found out about the bowling club when she did a spread on them for the yearbook her junior year. Although she'd never bowled before, she enjoyed watching the sport and coming to their events, so the next year she decided to join the team.
"I'm actually kind of upset because this is my first year on the team, [but] it's also my last year on the team," Williams said. "It's been really fun this whole year and I'm kind of disappointed that I didn't join it sooner."
Their season drew to a close on Feb. 23 with a final game against Wylie, but as individual players are ranked in postseason, senior Sophia Donaghy advanced to the all-district team and will compete at regionals.
"We had a lot of fun this season," Klapper said. "I think anybody on the team that you ask would tell you they had a good time, which is really the goal."
About the Contributors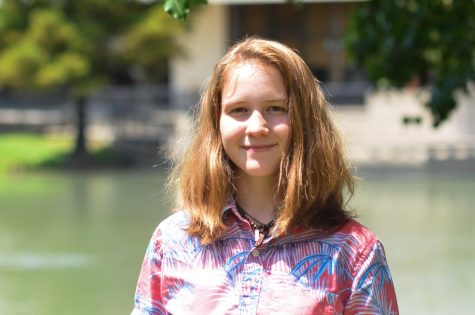 Juliette Roberts, Copy Editor
Juliette Roberts is a senior spending her third year on the Panther Prints staff as one half of the copy editing team. An amazing staff and teacher have...