Shooting for All-American Stars
Student athlete earns national title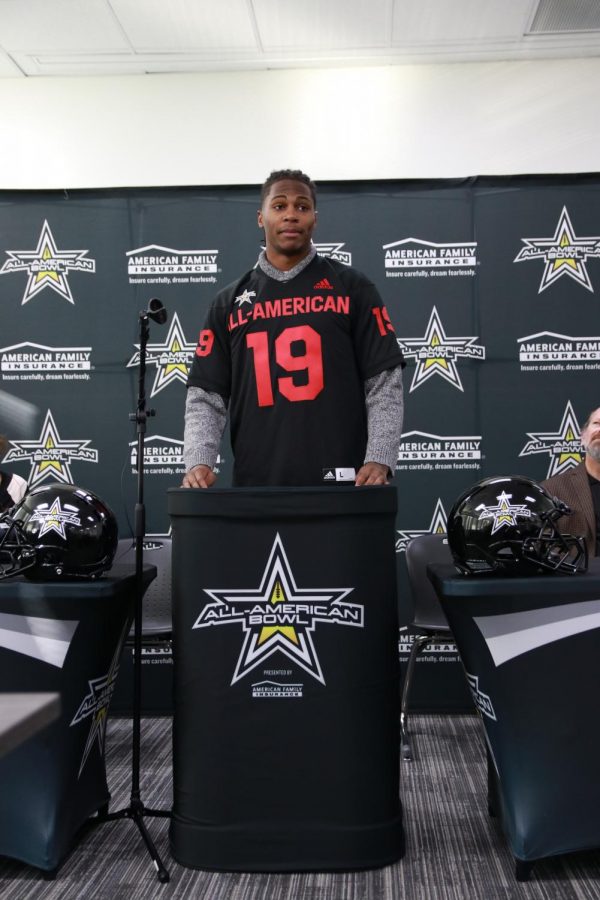 All-American Bowl Experience
The sun shines brightly, blocked only by the figure standing at 6'2", stepping out onto the football field. Adrenaline courses through his veins. His heart pounds in his ears. His 202 pounds of muscle can't compare to the weight of expectations on his shoulders. The field of artificial grass before him will be the battleground of one of the most important games he ever faces. The varsity football safety secured his position at the top. Sporting a number 19 jersey, senior Tyler Owens made his debut at the All-American Bowl on Jan. 5.
"[Becoming an All-American athlete] wasn't my goal at first; I just kept getting better than my opponents," Owens said. "I did my best to get where I needed to get to, and I ended up an All-American."
Selected to play in the All-American Bowl, the five-star athlete and overall 24th in the nation is the football team's overall second All-American and the first since 2002.
"He's got unbelievable speed," Head football coach Joey McCullough said. "I think it's because of his work ethic and running track. The ability to run that fast [is a] quality that everyone looks for. The sky's the limit for Tyler because I truly believe every year he's grown, and he's still got a lot of improving to do."
Owens' work ethic earned him a place on the UT football team with a full-ride scholarship, which he accepted on Sept. 24, and a spot on the All-American team. The selection committee evaluates millions of high school football players. From the thousands of prospective students, only 102 players are selected and invited to play in the All-American Bowl. To be chosen, a student has to have an outstanding senior year and be in good standing within their school and their community.
"He's one of the hardest workers I've ever been around," senior Braylon Henderson said. "He goes hard until he gets things done."
Besides becoming an All-American athlete, Owens earned titles of MVP for track and first team all-district for football.
"[You've] just gotta go out there and win; you gotta do whatever it takes," Henderson said.
High School Football Experience
The East football team runs out onto the field, crashing through their banner. Cold fills the Friday night air. The team assembles before the game, getting ready to perform their best. As Owens prepares to play, the cheers of the crowd become distant. Despite the seconds counting down on the scoreboard, time seems to stop as the game begins. Everything goes blank, leaving only the task at hand. His coach believes it is this strong mindset and discipline that makes Owens a strong player.
"I told [the college scouts] you better get this guy on him right now because you're not going to be able to touch him," head football coach Joey McCullough said.
Owens received college offers from UCLA, Baylor, Vanderbilt, Missouri and Kansas State, and despite wanting to go to UCLA, he decided on the University of Texas so he could stay close to his family. Owens wants to further his education beyond football, planning to double-major in business and aeronautical engineering.
"Every time I've heard him talk, whether it be for the All-American Bowl or whether it be for all district, it's always been about his team and thanking his teammates," McCullough said. "He understands it's a team sport and we all [both the team and coaches] have a role that we have to play."
Although Owens' bowl team lost 48-14, it has not hindered his spirit. Owens credits his successes to his high school team, coaches and father for his success. Even though Owens did not expect to become an All-American athlete, he constantly improves his skill level and his dedication to sports helped pave the way for his accomplishments.
"My pops [is my biggest inspiration] for sure," Owens said. "He played football at North Texas and then went to league, and he would tell me all the things he did and really coached me up. He played my position, so he [made] me better."
Owens immediately fell in love with football after his father encouraged him to join after he stopped playing soccer at eight years old and hopes to follow in his father's footsteps by making league for football in the years following college.
"It's not always easy, but work hard for what you want and you'll be successful," Owens said.
About the Contributor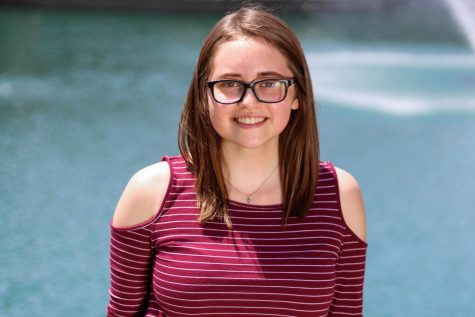 Emma Trussell, Photo Editor
Emma Trussell is a senior at Plano East and photo editor for the 2018-2019 newspaper staff. This is her first year as part of the newspaper staff and second...