Tumbling Towards College
Senior pursues cheer beyond high school
Hang on for a minute...we're trying to find some more stories you might like.
The Friday night lights blare with brightness as the crowd watches the cheer team perform flips, handsprings and tucks on the sea of green covering the football field. The student section screams with pride as the cheerleaders successfully garner excitement and enthusiasm amongst the student body. This is a feeling senior Kennedy Kerrigan could never let go of.
Kennedy plans to attend tryouts at the University of Mississippi in May in hopes of continuing cheerleading in college the forthcoming school year at Ole Miss.
"[Cheerleading] is my passion and my heart," Kennedy said. I just love going out in front of people and performing.It's also just the team. It's my whole heart."
Kennedy chose Ole Miss because of its competitiveness in cheerleading and its status in the Southeastern Conference.
"Since SEC [Southeastern Conference] is really big in the sports, cheerleading [at Ole Miss] is super competitive and they're really good," Kennedy said. "I looked at that and the programs I was interested in, like international business and it kind of just went together."
Kennedy's interest in cheerleading flourished when the cheerleaders came to her middle school for a pep rally when she was in seventh grade.
"It blew me away and I was like, 'Wow those girls are so cool, I want to do that,'" Kennedy said.
After cheering in middle school, Kennedy decided to carry on the sport in high school and expand her capabilities as a cheerleader.
"My first impression of Kennedy was that she loves being a cheerleader," cheer coach Kip Sanders said. "She does a very good job, she's very school-spirited and she takes a lot of pride in her performance."
There are other things Kennedy looks forward to besides cheering at her out-of-state college.
"I'm just excited for the independence of being outside of my house because I feel like a lot of the time you have to ask your parents for this or that," Kennedy said. "When you're at college you're on your own."
After college, Kennedy is uncertain whether or not she would like to pursue cheerleading for an NFL team due to her choice to major in international business.
"Ultimately I'd like to, since I want to major in international business, live overseas like in Paris, or somewhere in France," Kennedy said. "That's the ultimate goal."
About the Writer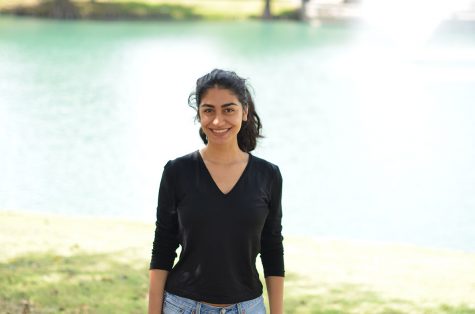 Pantea Jamshidi Nouri, Digital Media Editor
Hi! My name is Pantea, and I am the Digital Media Editor this year. As I finish my last year of highschool, I hope to become a better writer and a bigger...