My Time in the New Mexico Mountains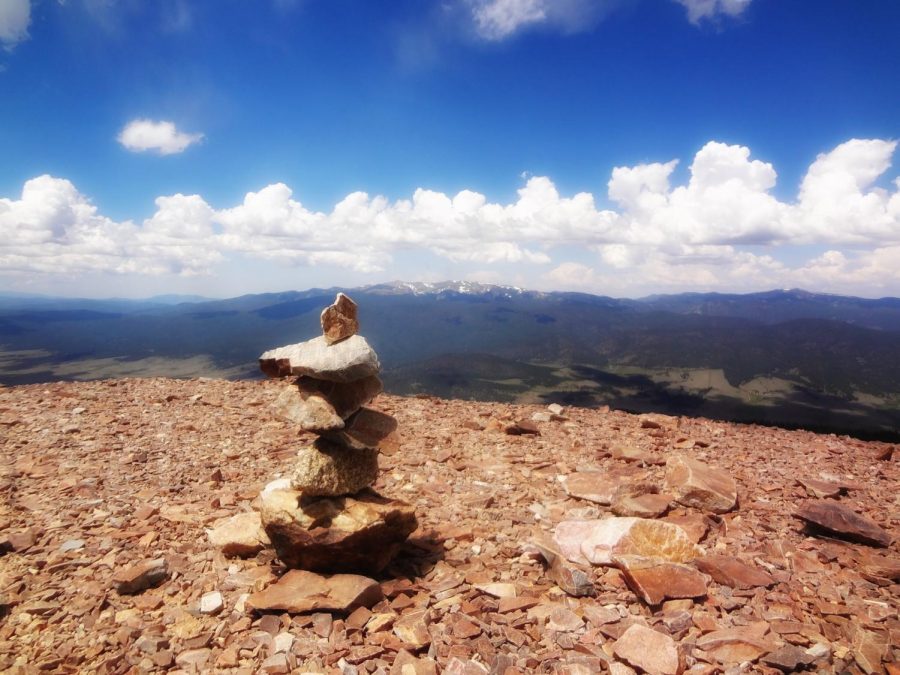 From hiking cliff-sides to tormenting YouTuber look-alikes, we experienced it all.
In the summer of 2016, my close friend Parker, crew Bravo-621 (621 is the date we began the trek) and I set out to Philmont, the most prestigious of the four main BSA high adventures located in Cimarron, N.M. in order to summit the infamous Mt. Baldy and Tooth of Time. The day after our arrival, we were briefed by our trail guide on the many dangers of the wilderness, from the importance of bear bags to being stabbed in the eye by a hummingbird— it actually happened once.
The next morning while hiking, we admired the charred remains of what once was a dense forest, decimated by the Ponil Complex fire in 2002. Just months ago, the Ute fire continued through the estate, scorching a fourth of the property as well as delaying the treks of thousands of scouts and parents.
Later in the day, we stopped at Metcalf Station while the storm clouds rolled in. After an hour or so of sitting on the aged, wooden floorboards of the small building, the rain passed and we continued on our journey to what we deemed "Mud Mountain," the second most difficult mountain we were to climb in the next two weeks. The dirt and water mixture clung to our boots like a magnet to train tracks, adding another 5 pounds to the 50-pound packs already on our backs. After an hour or two of desperate persistence and many arduous breaths, we retreated back to the station to set up camp for the night.
We resumed our trek the next day, but with two less crew members who went back to base camp because of health issues from the preceding day. By lunchtime, we arrived at our next campsite, equipped with a cantina and horse/donkey pen. In the evening there was a live performance from the trail guides stationed at that camp, consisting of guitars, a harmonica and an accordion. It was certainly a sight— and sound— to behold.
After spending a night at camp Sioux, near the Ponil Cantina, we temporarily adopted a donkey. It honestly just slowed us down, and we weren't allowed to give it more than 20 pounds to carry, but watching it poop on the people walking behind it was definitely worth it. His name began as Phil, named after our trail guide, but it later became Miranda, and then Rajesh and the cure for boredom continued from there.
Around noon on the fourth day, we reached the conservation site, where we would quickly learn the different tools and their uses: the mcleod [mik-loud], in charge of laying gravel, the shovel (aka the "Spoon"), and the cutter mattock, in charge of discarding roots to make way for more trails. It may sound bad, but a designated trail is far better than having scouts wander outside of them, disturbing wildlife and God knows what else.
As our crew listened to the two guides in charge of trail building, I started to notice the uncanny resemblance of one of them to the Youtuber "CaptainSparklez," whom I'll admit I used to watch. For that next hour of work, all I could think about was the similarity between the two, like it was wrong not to acknowledge it. He told me his name at some point, but I forgot it and just kept listing names starting with J. James? Jeffery? Jackson? A couple of days later we saw him at another one of our campsites, so we went over to say hi and continue guessing what his name is. I think it's safe to say he wasn't amused after a while and frankly, looking back on it, I was annoying as hell.
Two or so days later, after Phil was dropped off at camp Miranda, it was time to hike the big one— Mt. Baldy, in its 12,441 feet of glory. At first, it was a steady incline up the side of a stream past some campsites, but the terrain quickly became more jagged and twisted as we reached the halfway mark. We decided to bring our packs to carry water, but I could feel the strain on our backs and our determination to reach the peak.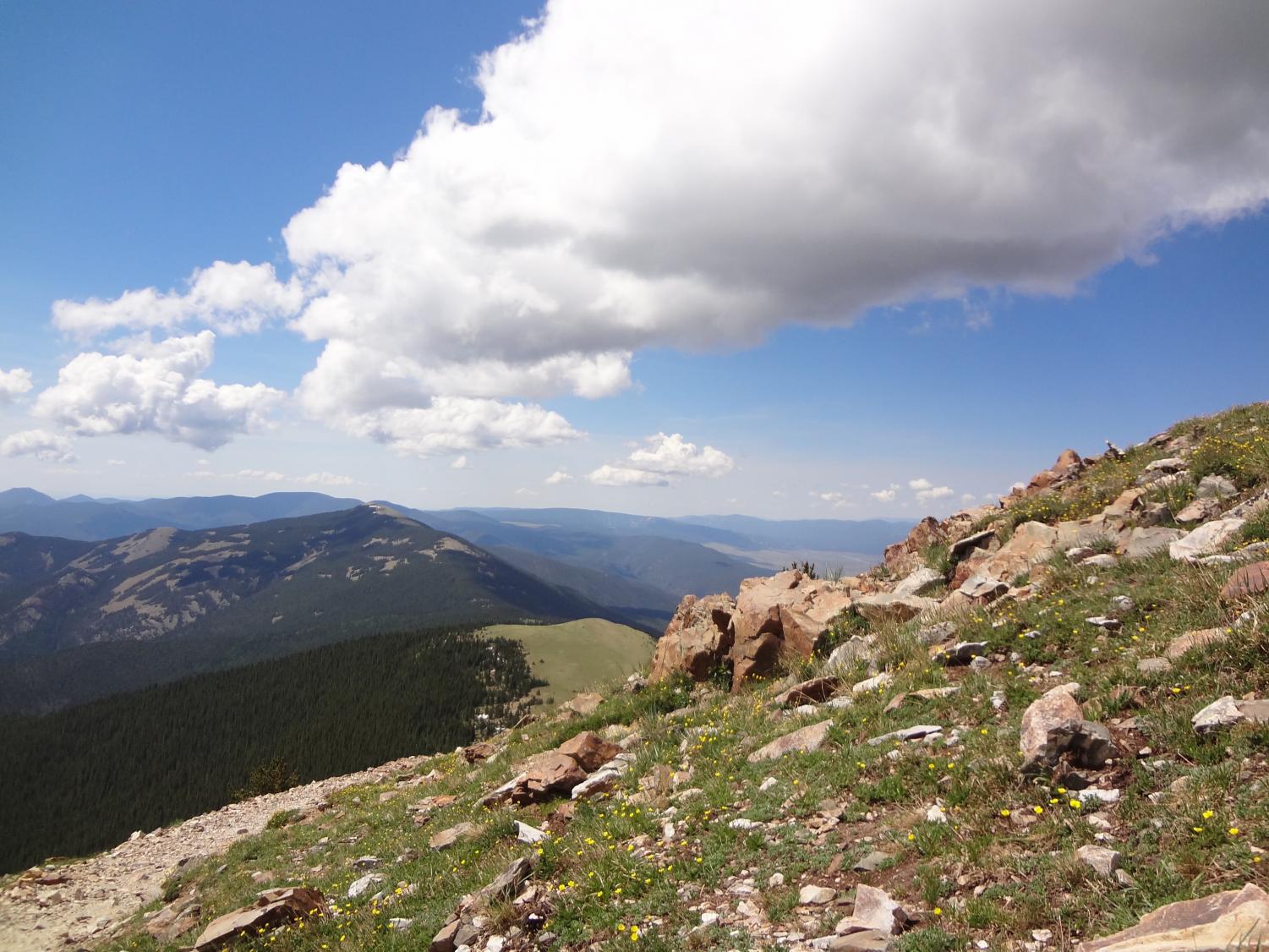 At some point the mountain heightened to a 65-degree angle, forcing us to lunge ourselves forward onto the trees for support. Near the top of the mountain was a patch of snow just chilling out in the summer sun, ready to be balled up and thrown at unsuspecting scouts, which many did, of course. The top of Mt. Baldy was strewn with rocks, so sliding was inevitable, and boy did it feel like completing a video game after grinding for weeks— pure euphoria. The wind speed was incredibly high as well, forcing us to hide between rock formations built by others in order to eat lunch. I also discovered that in my pack was my extra camera (my other one died on Mud Mountain), which caught some of the best photos I've ever taken to this date.
A couple of days later on the way to another site, more clouds rolled in and hailed on the trail. It ended for a little bit so we trekked on, but about a mile away from our site it started again, and suddenly a bolt of lightning struck a mountain adjacent to us. We split up and claimed the closest tree to hide under, avoiding our potential demise as Zeus struck down his rage on Philmont. It was crazy.
On our last day, we woke up early to a beautiful sunrise peaking between the trees. We hiked to the top of the Tooth of Time Mountain, which was close to base camp. The top was covered by large rocks housing thousands of tiny red ladybugs, all claiming entire sides of the boulders.
The hike down to base was just about the longest walk in the entirety of Philmont; just switchback after switchback after switchback. Once we reached the drop site in base camp for borrowed gear, we sat down and stared into nothing, both tired from the heat that caught us in the end as well as relieved that it was finally over. For somewhere that had snow, it had certainly gotten hotter the longer we trekked.
It's sad to say, but I was so relieved to finally have my phone back to listen to music, although the Cantina entertainment certainly cured the silence for an hour. Of course, I had to buy some merch to commemorate the once-in-a-lifetime experience, so I can be seen often wearing a Philmont hoodie or drinking out of one of their mugs. It truly was one of the most glorious adventures I think I will ever have, and I hope other scouts or parents find a chance to have their own trek before it's too late.
Visit https://www.philmontscoutranch.org to learn the lore of the land and what it takes to set up your own trek. If you don't fit the requirements, Guadalupe Peak is Texas' highest mountain at 8,750 ft; https://www.nps.gov/gumo/planyourvisit/trails.htm for more info.
About the Contributor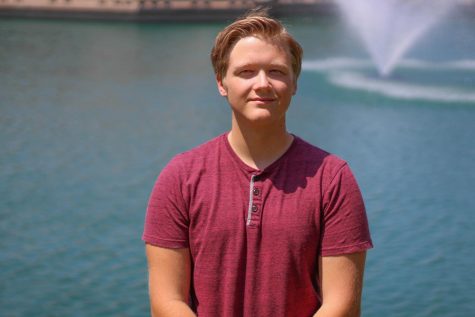 Luke Miller, Reporter
Philmont, Northern Tier, Summit and Sea Base: he has conquered them all. Luke Miller is a certified Eagle Scout who has committed himself to the Scout...