How to Conquer Senior Year
Three things I wish someone told me about being a senior
Hang on for a minute...we're trying to find some more stories you might like.
As you know, senior year can be a stressful time filled with college applications, making life-changing decisions and saying goodbye. Beyond all the stress, there are three little pieces of wisdom that I have learned on my own and now pass onto future senior classes, in hopes of making your last year of high school a little more enjoyable.
My first two cents is this: start college applications ASAP. My biggest stressor around the end of first semester was finishing up college essays and making sure everything was properly sent. When I heard how people applied over summer, I assumed them to be overachievers, but now I congratulate them. Piling applications on top of normal schoolwork created an unnecessarily stressful month for me, and, if I could go back, I would've submitted by the early decision deadline and made my Thanksgiving break much more laidback.   
My second piece of advice is to not load up on Advanced Placement classes. Despite what your counselor may tell you, more isn't always better. Although you probably want to help boost your GPA in anyway possible, it really doesn't matter. The GPA you send off to colleges is from your junior year, so I hope you did well that year! Another big reason to avoid AP overload is because you're honestly going to want to throw in the towel and just graduate by the beginning of second semester. I know, it sounds very negative and pessimistic, but the sooner we all accept that senioritis is most definitely real, the better for everyone.
My final and most important tip, if you take anything from this article, is to spend time with your friends. This is the last year you will ever be surrounded by all of your closest buddies. Cherish the small moments with them, because they will very soon be your last. After the nine months of school, you will say goodbye. Nine may seem like a lot, but once seven of them have passed, you will realize that it just isn't enough. You will say goodbye to the city you were raised in, the teachers who guided you and the people you grew up with.
I know that many teachers say that senior year is not an excuse to slack off, and that you should finish high school strong, which is true, but the reality is that you spent the past three years of high school working your tail off to reach this point, and to stop for a moment and to make lasting memories with your friends is okay.
Senior year is a time to have fun, stay out late, and reminisce about the past. It's a time to celebrate all of your achievements and dream about how far they will take you. It's the end of the beginning, and the beginning of the rest of your life, so don't spend all of it holed up in your room doing math homework and writing 500 word essays.
About the Writer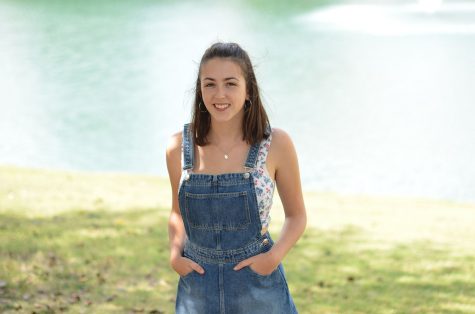 Kate Moore, Staff Writer
Hey guys! My name is Kate Moore, and I'm a senior. I was previously in yearbook for three years, so this is my first, and sadly, last year in newspaper....