Taheera's Hits
Hang on for a minute...we're trying to find some more stories you might like.
Albums:
"Pink Lightning" – Xavier Omar
Xavier Omar released this cheerful R&B EP containing only five songs on Nov. 17. While his voice is soulful and passionate, filling the listener with glee while listening to him, having only five songs is a major downside in conveying the theme of the EP. Xavier Omar has immense potential to become a mainstream artist, yet the EP feels generic and lackluster, especially for someone who is new to the scene. However, this doesn't take away from the fact that songs like "Runnin' Round" and "Stuck" are staple feel-good songs to add to your own personal playlist.
"Heartbreak on a Full Moon" – Chris Brown:
Despite the controversy surrounding Chris Brown that makes me not fully support him, there's no doubt when talking about his talent to produce trendy songs that have constant radio airplay. However, 45 songs for an album is an extreme that hasn't been seen that often, and, in my opinion, strenuous on the artist. While the artist's songs are trendy, there's no authenticity that comes along with the tracks. Many songs have no real substance, but it's hard to deny that this album is one full of possible party anthems, with tracks like "Party" and "Pills & Automobiles".
"Red Pill Blues" – Maroon 5:
Change is inevitable with the popularity of certain types of music always altering . The early 2000s incorporated heavy guitar-driven melodies, making more alternative rock music popular. Maroon 5 fit this mold perfectly, providing passionate vocals from their lead singer and face of the band, Adam Levine. However, many fans express doubt and worry in their current sound as it adapts to the pop genre that invades music. To me, this album is wholesome in the fact that there are songs that include the sound imbedded into a more timely sound like with "Plastic Rose."  Having rap superstars like A$AP Rocky and Future feature on their tracks worried me in the sense that their music was nothing alike, but it worked for the most part.
"Pearl" – Dave B.:
Dave B. has a different type of flow from most "rappers" these days; it's more jazzy, almost as if he's singing a song sometimes, rather than speaking or yelling words into a microphone. He incorporates a sound that would make this album classified as more of an R&B album rather than a rap one. The songs are rather mellow; none necessarily scream at you, causing you to sit back and listen to his amazing lyricism and appreciate his flow. The beats on all eight songs in this album are phenomenal, making it a favorite for me this month of November. Dave B., in short, is like a gem in a pile of rocks; the rocks being the current hip hop industry.
Songs:
"Sugarcane" – Tremors:
This song is reminiscent to an 80s electronic dance track with the wavering synths being the consistent background noise. The song has a gloomy ambience to it, the singer's vocals strongly presenting the emotions of the song. However, it's not necessarily a song that's easy to listen to due to its very loud sound.
"Have Fun" – Smerz:
The constant falsetto of Smerz along with the eerie chords makes this indie song feel more like it belongs in the soundtrack for a show like Stranger Things or American Horror Story. It has a lot of syncopation produced by synthesizers, yet there's still a heavy bass lingering on. This track would be perfect for a late night drive, having this indescribable calming effect.
"Walk on Water" – Eminem feat. Beyonce:
Beyonce, this year, has chosen to feature on so many songs rather than producing her own. It's refreshing to hear her somewhere where you wouldn't necessarily expect her to be. The song's reminiscent to the feeling when Rihanna did a song with the rapper a few years ago, although this song is a more sentimental ballad. Eminem is known to not stray away from producing empowering songs or songs that evoke somberness, and this one fits right into that mold perfectly.
About the Writer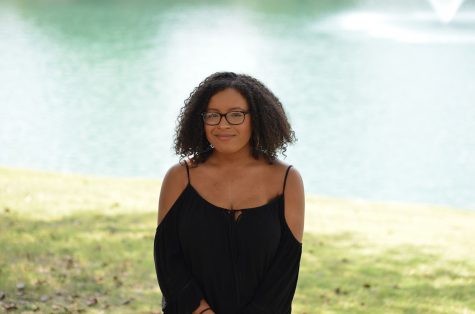 Taheera Washington, Copy Editor
My name is Taheera Washington, and I am Copy Editor for this 2017-2018 Panther Prints staff. I partake in several activities such as National Honors Society...