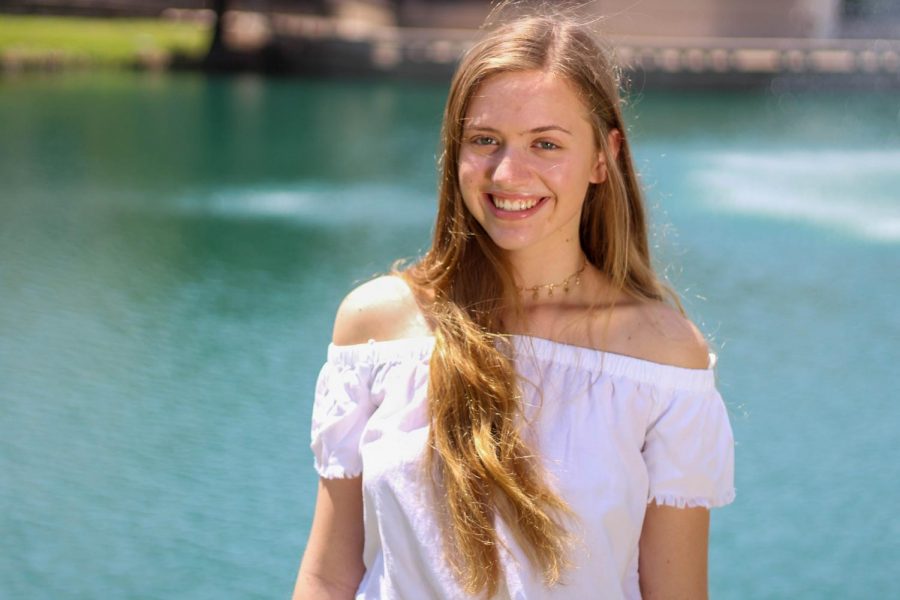 Abby Blasingame is a senior at Plano East and this year's editor-in-chief of the Panther Prints. Newspaper was one of the highlights of her junior year, and she looks forward to creating a similarly positive experience for new and returning staff members. Over the summer, she had the exciting opportunity to intern at the Dallas Morning News. She hopes the knowledge she gained will help improve the already amazing publication.
One of Abby's favorite things about journalism is its freedom in storytelling across different platforms. She is an avid photographer and is always looking for a way to strengthen stories through visuals. She might also be a little bit obsessed with podcasts.
In her free time, Abby enjoys playing guitar, running and listening to her fire music taste. She is also a dedicated Girl Scout who has earned her Gold Award. In college, Abby hopes to pursue a major in marketing or, of course, journalism. She also wants to add that she really loves her golden retriever, Dakota.
Abby Blasingame, Editor-in-Chief
May 22, 2019

Choosing Globalism

(Story)

Feb 28, 2019

Meadows Feeds the Three Thousand

(Story)

Feb 24, 2019

Testing Boundaries Episode Two: Gifted and Talented (GT)/ PACE

(Story)

Dec 16, 2018

How to Practice #SelfCareSunday Before Exams

(Story)

Nov 29, 2018

Testing Boundaries Episode One: PSAT

(Story)

Aug 31, 2018

ID Badges Implemented in New Wave of Security Measures

(Story)

Apr 18, 2018

New Calendar Produces Changes, Balances Semesters

(Story)

Mar 01, 2018
Mar 01, 2018
Mar 01, 2018

Tube Many Mistakes, Tube Little Responsibility

(Story)

Feb 21, 2018

Faces of Plano East

(Story)

Jan 25, 2018

North Korea Holds First Diplomatic Talks in Years

(Story)

Nov 08, 2017
Oct 19, 2017

A Fair-ly Good Day

(Story)