Running through the Oscars with my (DiCapri)woes
Hang on for a minute...we're trying to find some more stories you might like.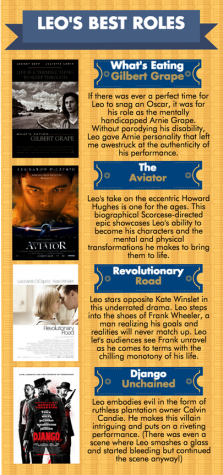 The Revenant" is the top Oscar contender, racking up 12 chances to take the golden man. While Best Picture and Best Director are categories of prestige, I, along with the Internet, have my eyes on only one category: Best Actor. Acclaimed actor Leonardo DiCaprio has once again been thrown into the Oscar ring, rubbing shoulders with Hollywood's finest, hoping to rise above to snag a statuette of his own. His portrayal of persevering frontiersman Hugh Glass in "The Revenant" marks the fifth role that's placed DiCaprio in the running for an Oscar in an acting category. From the multitude of award snubs arose numerous Internet memes poking fun at Leo's inability to take home the Oscar. Though I've been a devoted DiCaprio fan for numerous years, every time he's been nominated, I can admit his competition has always been ample enough to stand between him and the win. But 2015 cinematic outputs failed to excite, making Leo a dependable frontrunner. In the case that The Academy is having trouble giving Leo his long overdue Oscar, I've compiled a list of reasons to remind them why Leo's talent is one to be praised and cherished, not neglected for yet another year.
1) He knows how to leave 'Leonardo DiCaprio' at the door
Without crossing into the devoted path of method acting, Leo becomes his characters with ease. He's known for doing meticulous research (he spent months with former broker Jordan Belfort to perfect his role in "Wolf of Wall Street" and spent time with handicapped teens in order to perfect the beloved Arnie Grape in "What's Eating Gilbert Grape) and excels in the subtle mannerisms he adopts to make each character come to life on the big screen.
2) His passion for film is admirable
Before the opulent blockbuster "Wolf of Wall Street" hit theatres in 2013, Leo had been passing the project around for eight years. Even director Martin Scorsese was hesitant to take on the project at first, but later agreed after Leo got Red Granite and Paramount to distribute the film. He's a film enthusiast who enjoys studying the classics like Solaris and East of Eden, and aren't the Academy Awards all about celebrating the film industry and it's history?
3) All his talent is au naturale.
Unlike the young talents who enter the biz toting their fresh-off-the-press acting degrees from artsy powerhouses like Tisch, Leonardo DiCaprio took his acting cues from hands-on experience. He took a few drama classes in junior high but learned the rest from his on-screen roles. Leo also notes pointers from his seasoned co-stars like Robert De Niro and Meryl Streep, whom he worked with on "This Boy's Life" and "Marvin's Room" respectively.
4) His performance in "The Revenant" was pure art
I was surprised to see that for someone nominated for his supporting role, Tom Hardy had many more lines than Leo in the epic revenge film. The meat of Leo's performance came from what he didn't say and his ability to live through the struggle of frontiersman Hugh Glass on his journey to avenge the death of his son. In order to make this performance authentic, Leo had to eat raw bison liver, wade through freezing rivers and sleep in an animal carcass, an experience that Leo himself called a "living hell." If this doesn't show Leo's dedication to whatever film he's in, then I have no idea what does.
All in all, Leonardo DiCaprio contributes great talent to the film industry and has consistently been neglected by the Academy Awards. Though "The Revenant" is not Leo's best role, it still stands as an artistic testament to his acting ability. I want to see Leo thank the Academy, I want to see him receive an Oscar with his name on it, I want to bake my DiCapricookies in celebration.
So to the Academy, give Leo his Oscar already, this is his year.
About the Writer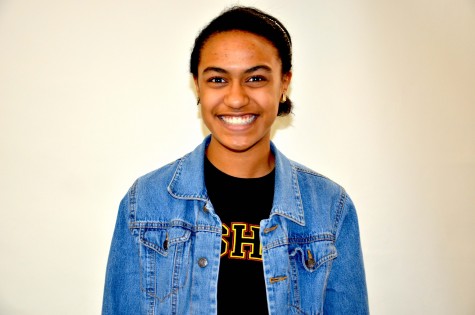 Naveen Inim, Creative Director
Hi, I'm Naveen,  I'm a senior and I'm really excited to be writing and designing for the Panther Prints this year! When I'm not refraining from...