Plano East to Strengthen Safety on Campus
Hang on for a minute...we're trying to find some more stories you might like.
The district plans to implement security measures the upcoming school year to strengthen safety on campus via a public announcement system, automated locked doors and student ID badges. Although these measures have been planned for some time, principal George King released an email disclosing these forthcoming changes in response to the Stoneman Douglas High School shooting.
"It is alarming, not just about the [Stoneman Douglas High School shooting], but the shootings over time," Mr. King said. "It [has] become a thing for people who are not well to choose a school as a place where they're going to create mass casualties and probably [go] on a suicide mission, as well."
A PA system will replace bells signaling the passing periods and lunches at all three senior high schools. The intercom will be a web-based program where administrators will type and send their message, then proceed onto the phone where they will deliver the message.
"Not having a PA system over all the buildings on this campus is just a roadblock," Mr. King said. "We can't have announcements, we can't have any source of broad message put out, other than through Remind or an email, and that doesn't mean people are receiving it at the same time. So we need a way of ensuring universal communication immediately."
As of next year, doors allowing access to buildings will be electronically locked during class time and unlocked during passing periods so students can easily get to class. As for students coming to school late, one door allowing access to each building will remain unlocked.
"Right now all doors are open," Mr. King said. "During passing period, another door will open electronically based on the timing of the passing period. We'll have to train students to realize the two doors of entry when [they're] going from class to class, but because of [late students] we're going to have to keep one door open."
Students will also need to wear badges as a form of identification. Administration has thought about differentiating grade level by color coding badges.
"We need to ensure that everyone is a member of our community, an authorized member of our community," Mr. King said. "If you're a young person without an ID badge, then it becomes our job to find out what's going on."
Despite these new anticipated precautions, the lack of mental health resources is a concern for many students and the Stoneman Douglas shooting has invoked some fear within several students.
"I was already kind of uneasy, but the fact that [the Parkland shooting] happened [and] that it was at a high school just kind of makes it a little worse," senior Natalie Salazar said. "But at the same time I just try to remind myself that the likelihood is not really that likely and I feel like some precautions are being taken, so that makes me feel a little better."
About the Writer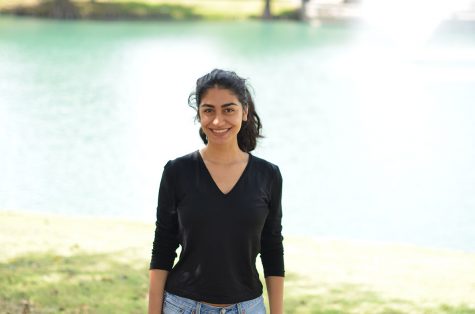 Pantea Jamshidi Nouri, Digital Media Editor
Hi! My name is Pantea, and I am the Digital Media Editor this year. As I finish my last year of highschool, I hope to become a better writer and a bigger...