Prescription Drug Use Rising
Natural remedies hope to decline prescription drug use
Hang on for a minute...we're trying to find some more stories you might like.
Prescription drugs are advertised for a variety of different conditions, but a largely overlooked part of each commercial is the slew of symptoms rattled off at the end. Each drug, whether for anxiety or back pain, has the ability to throw off the body's chemical balance and worsen one's mental state.   
The levels of a chemical called serotonin are commonly affected when someone takes prescription drugs. Low amounts of serotonin can lead to unusual behaviors and have been known to cause more complications.  Drugs that increase levels of serotonin can cause the body to stop producing serotonin naturally. The brain becomes addicted to the drug because it becomes dependant on the drug to get sufficient amounts of serotonin. The school's Health Occupations Students of America have pledged to propose different ways to increase overall levels of serotonin without taking potentially harmful drugs.
"Addiction to drugs is obviously something nobody wants," junior Ashna Shah said. "We are hoping the if we can educate someone on natural remedies, then we can help prevent someone from becoming dependent on prescription drugs."  
Some natural ways to increase levels of serotonin are: having a healthy and balanced diet, getting the recommended amount of exercise, and making sure to get plenty of sleep. These all play an influential role in one's serotonin levels and can lead to a happier and overall better mood.
"As someone who has struggled with anxiety, I feel it is important for us to inform others on how they can get help," junior Ashleigh Barna said. "It all starts with a healthy lifestyle and I believe there are ways to deal with issues rather than just resorting to pills."
 The use of antidepressants have seen a rise in recent years, and according to the National Center for Health Statistics, 11 percent of Americans age 12 and over take antidepressant medication. Of those taking antidepressant drugs, 60 percent take them for a period of two years or longer and 14 percent take them for a period of over 10 years.
"A lot of students at this school struggle with mental illness," junior Minh Nguyen said. "Mental illness has become very prevalent in our society. We want to give back to our community and spread awareness about the dangerous effect prescription drugs can have on your body."
Drugs can play a major role in helping people with mental issues, but can negatively impact one's everyday life. Besides the physical symptoms such as rashes, joint and muscle pains, nausea and reduced blood clotting, drugs that raise levels of serotonin can stunt mental development among teens and children.
"We know drugs can help someone out immensely and doctors recommend them," junior Thu Nguyen said. "We just hope people can start to see them as a last resort rather than a first effort. Especially since there are some natural ways to help combat mental illness."
About the Writer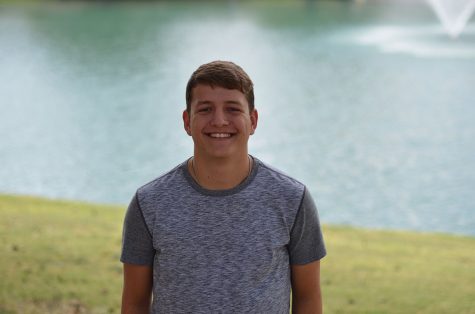 Reid McEowen, Co-Editor In Chief of Content
Hi, I am Reid McEowen, and I am this year's Co-Editor in Chief of Content for the Panther Prints. This is my second year of newspaper, and I served as...