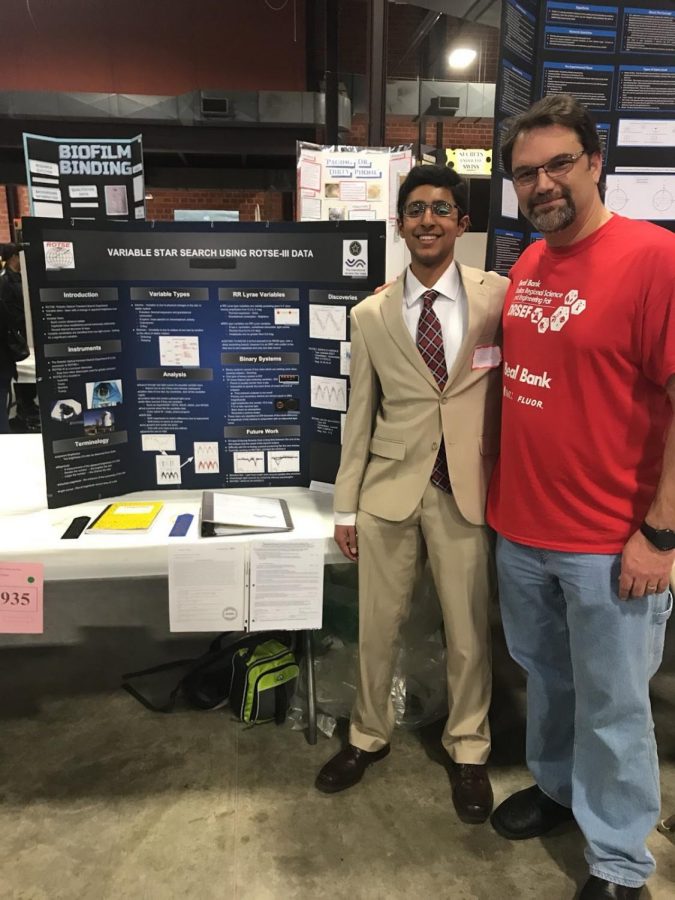 Principal Al Gallo
After at least five hours of judging at the Texas Science and Engineering Fair in San Antonio on March 24, students found out if their project placed and if they would be advancing to the International Science and Engineering Fair (ISEF), set to take place this May in Pittsburgh. Twenty four Plano East students qualified for the state science fair, nine placed and five qualified for ISEF.
Sophomore Kavya Muralidhar won first place in the category of Plant Sciences and is one of the five that will advance to ISEF. The purpose of her project was to develop a low cost method that prevents harmful ions found in nitrogen, phosphorus and potassium fertilizers from diffusing into water and soil.
"It's really good for third world countries or for anybody really to protect soil and water resources, which is really important now because eutrophication, when water has plant nutrients and causes an algae bloom, [is] really prevalent in modern agricultural communities," Kavya said. "It can help many farmers and people who want to protect water."
To prepare for the state fair, Kavya redid her board and practiced her speech with friends and teachers. Despite a little stress, she genuinely enjoyed the experience of competing in the fair.
"It was very fun, actually," Kavya said. "I love when [the judges] ask you about your project and you get to explain what you've done. It's really interesting."
Going into the Dallas Regional Science and Engineering Fair on Feb. 24, Kavya had one goal for herself: go to state. Now she is looking forward to ISEF, where she hopes to place and meet new people.
"I never expected to go to ISEF; it was a great surprise," Kavya said. "When I went to state, all I wanted to do was do my best and maybe place."
Senior Rithvik Ramesh also exceeded his goal of going to state. He placed second in the category of Physics and Astronomy and won a special award from the Graduate Society of Physics at UTSA.
"For me, it's not really the achievement of getting to the next fair, it's more like feeling accomplished with what I did," Rithvik said.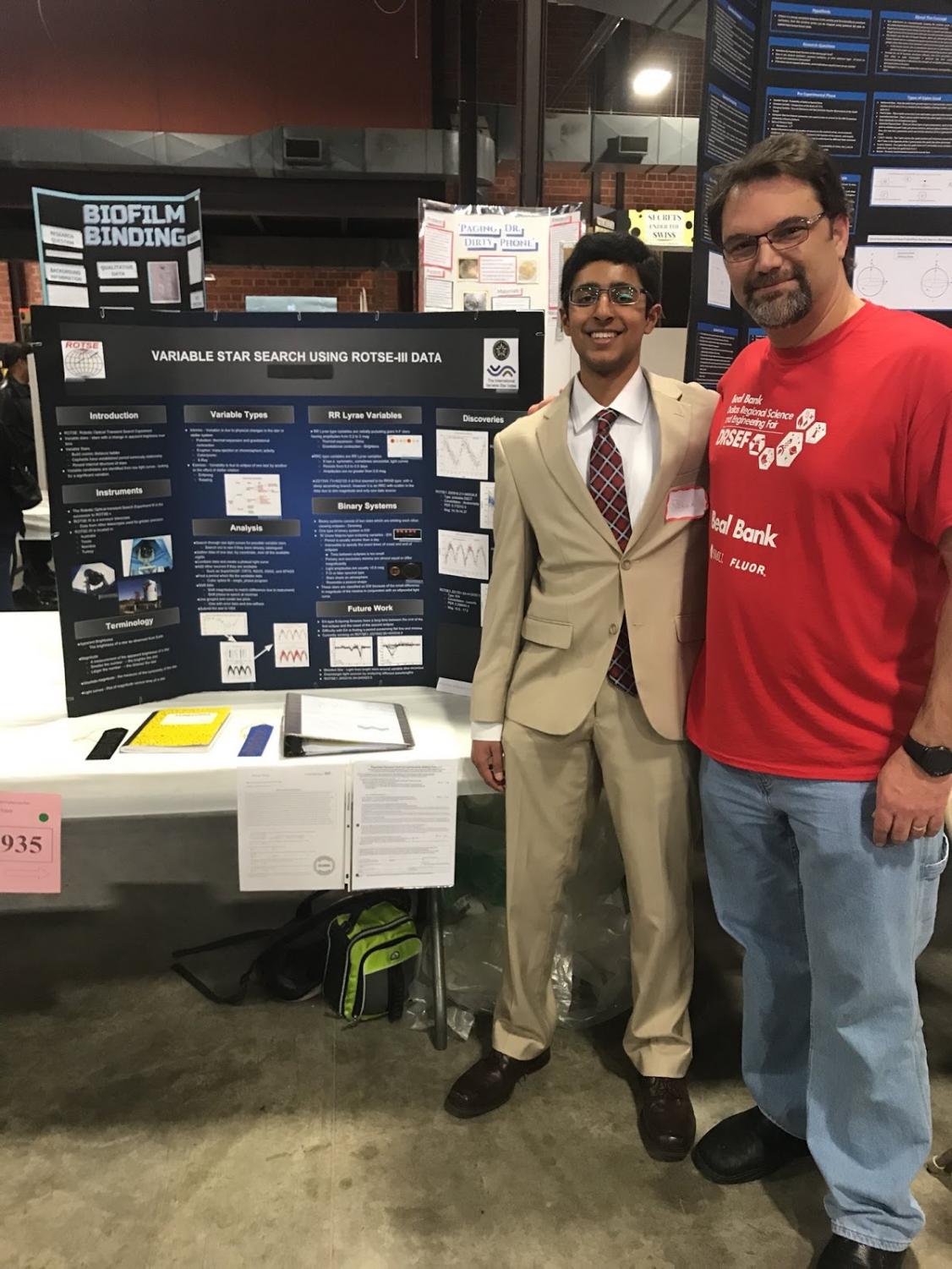 In his project, Rithvik discovered and catalogued four variable stars to the International Variable Star Index, a database that records information about stars with fluctuating brightnesses. One of the applications of studying variable stars is predicting when solar flares occur.
"It's quite rare to see astrophysics projects like mine, which makes it all the more fun because I exposed people to a field they know little about and inspire[d] them to learn more about it," Rithvik said.
Though this was the first time Rithvik participated in the Texas Science and Engineering Fair, he has competed in numerous other science fairs around the state. Earlier this year he entered in the Texas Junior Science and Humanities Symposium and won grand prize. He will  advance to the National Junior Science and Humanities Symposium on May 2-5 in Maryland.
"That's actually a very interesting fair because it's different from our normal one," Rithvik said. "It's going to be in a big auditorium with a big panel of judges. It's a different type of fair experience, but it's going to be a lot of fun because, for me, the best part is just sharing my project and that vision with everybody else in the audience."
ISEF qualifiers and juniors Ashna and Ashay Shah also enjoyed interacting with others at the fair, specifically the judges.
"There was pressure of course with the judges, but it was actually quite fun because judges are really interactive," Ashna said. "It's really interesting to see what other people's input on your project is and what ideas that other people have when they ask you questions as well."
After visiting their uncle in rural India and observing that he was disconnected from the power grid, Ashna and Ashay were motivated to create a low cost and low maintenance energy storage device called a supercapacitor. Their goal was to increase the amount of energy the supercapacitor could store and allow it to operate under extreme temperatures while still maintaining efficiency.
"We envisioned that it can replace lithium-ion batteries, and what we actually found was that it could store 13.5 times more energy than current commercial supercapacitors," Ashay said.
Ashna and Ashay's supercapacitor can be used in many ways, such as in satellites, airplanes, the oil and gas industry and the medical field.
"Throughout the years we've always done energy-related projects because that's our passion and that's our motivation–to create an energy device," Ashna said.
The twins dedicated a lot of time to their project, working in a laboratory with a professor. They were excited to find out they were advancing to ISEF.
"I was kind of in shock," Ashna said. "It took awhile to process it because I didn't expect it."
Participating in science fair impacted the students in different ways besides winning. For example, some found a passion and a potential career path.
"I want to be a researcher," Ashay said. "I'm going to probably major in material science or chemistry, [something] in this area, because we already have a lot of knowledge about it. I really like doing research because you can make new discoveries and things like that, but also research, at some times, can be kind of slow because you might not get the results you expect."
Science fair also shaped Rithvik's interests and future plans. He is looking at a double major in electrical engineering and physics.
"The best part about all this stuff is that it's very fun to learn what other people are doing in different fields, understanding new concepts that you are not familiar with," Rithvik said. "That's more fun, honestly, than competing against everyone and trying to win."
Though she discovered some of her interests, Kavya also learned an important life lesson from science fair.
"When you go to science fair, it teaches you how to lose and win with grace," Kavya said. "It's so subjective; sometimes you win and sometimes you don't. That's just how it works. Rather than being upset about a loss, I just reflect and learn about why I didn't place and what I could have done better. If you win, it teaches you to be super humble and not brag about it."
Texas Science and Engineering Fair Qualifiers:
Ashay and Ashna Shah (First place in Chemical, ISEF qualifier); Aditya Vishnubhotla and Smaran Velidi (First place in Embedded Systems, ISEF qualifier); Kavya Muralidhar (First place in Plant Sciences, ISEF qualifier); Rithvik Ramesh (Second place in Physics and Astronomy and Special Award from the Graduate Society of Physics UTSA); Rakaan Alhaddad and Rohan Mehta (First place in Biomedical Engineering); Savannah Pas (Third place in Microbiology); Alvin Ta; Amanda Moon (Grand prize winner at Regionals; ISEF qualifier); Esha Basoor; Kshitij Sachan; Olivia McCoy; Shiva Teerdhala; Yesh Doctor; Akanksha Deka; Arun Eswara; Avi Patel; Saharsh Dasari; Thomas Paul; Aryan Jain; Nathan Wille; Rishit Thakkar