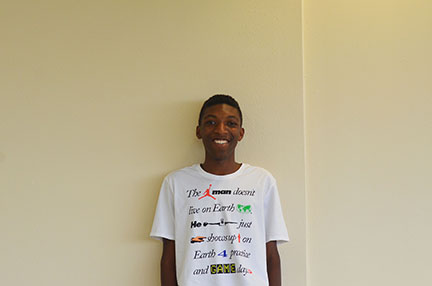 Hi, my name is Van Malone and I am the Sports Editor for the Panther Prints! There are a couple of things that you should know about me:
I LOVE shoes, mostly Jordans and everyday I try to wear a different pair of shoes, just to mix it up a little bit. I collect and sell sneakers to others who share the same love that I do. My favorite pair by far are the Jordan eleven closing ceremonies, as the gold on the leather is amazing.
As my title says, I love sports. Sports, mainly football has been in my life since the beginning. And as long as I live, probably will not leave; not that I want it to. My favorite sport is football but basketball is a close second. I am extremely competitive, and admittedly maybe a little too competitive. If you see me in the hallways, chances are I have my headphones in. That is because I love music. I will listen to music literally for hours (because I have before) my playlist is nearly endless and music is just another layer of the cake that is me.
Favorite quote~ "Hard work beats talent when talent fails to work hard" -Kevin Durant
Van Malone, Sports Editor
Apr 24, 2017

Reduce, Reuse, (Don't) Recycle

(Story)

Feb 24, 2017

"I DECIDED" To Write This

(Story)

Feb 06, 2017

Number 31 Strikes Again

(Story)

Jan 18, 2017

An Accident Waiting to Happen

(Story)

Jan 12, 2017

Twins Awarded $100K

(Story)

Oct 26, 2016

The Fantasy in Fantasy

(Story)

Sep 06, 2016

Tennis Kicks Off Season

(Story)

Apr 07, 2016
Feb 10, 2016

The 50th Big Game

(Story)

Feb 08, 2016

Broncos bring home Superbowl victory

(Story)

Sep 08, 2015

Baylor Bears Take Home Victory

(Story)